Buddhist funeral for storks
The Telegraph, Sept 18, 2008
Guwahati, India -- The Buddhists of Banglung Shyam village in Assam's Karbi Anglong district will hold a shradh ceremony for the hundreds of Asian openbill storks who died there on Monday night.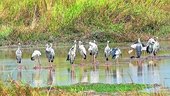 Over 800 birds of the endangered species died when a century-old banyan tree on which they were nesting got uprooted in the village.
Dibyadhar Shyam, a forest official from the village, said the villagers considered the banyan tree and the birds nesting on it sacred.
"We held a small religious function yesterday and have decided to organise a mass shradh ceremony for the birds very soon. We are talking to religious leaders," he added.
Senior wildlife officials rushed to the spot today, but they have not been able to ascertain the exact figure of the dead birds yet.
"Many birds drowned in a pond. Some carcasses are still hanging on trees aga- inst which the huge banyan tree brushed as it fell. The figure may go above a thousand," an official at Chilonijan said.
The banyan tree was one of the three trees located near a Buddhist temple in the village. Thousands of open-bill storks have been nesting there for years. It was one of the largest colonies of the species in Upper Assam after Majuli and Kaziranga National Park.
Shyam said the area had been cleaned up and the uprooted tree has been cut to pieces to clear the mess. "We will stock the timber on the temple campus as a banyan tree is extremely sacred to our community," he added.
The dead birds were buried in a nearby area today. These included 12 of the 63 rescued storks which died at the Centre for Wildlife Rehabilitation and Conservation (CWRC) last night. The condition of about a dozen is still critical.
The CWRC veterinarian Prasanta Boro said a few of the injured birds might die. "Many birds have broken wings and legs. We are treating them."
He said the cured birds would be released near the tree they were nesting on, which is about a 100km from the centre.
A forest official said hundreds of birds were flying in the area today, probably looking for their chicks. He added that many injured birds were lying on a nearby marshy land.