Army rescues Karmapa, 400 still stranded
The Asian Age, Sept 21, 2008
Chandigarh, India -- Indian Army helicopters carried out sustained air operations to rescue Ugyen Trinley Dorji, the 17th Karmapa and incarnate spiritual leader of the Karma Kagyu, the most prosperous of the four Tibetan Buddhist sects.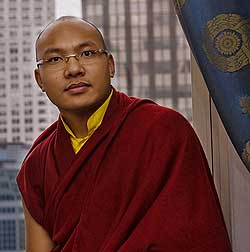 << The 17th Karmapa, Ugyen Trinley Dorji
On a religious tour of Himachal Pradesh's Lahaul and Spiti district, the Karmapa and several of his followers had been stranded on the 4883 m Baralacha Pass because of heavy snowfall. The Karmapa's entourage was forced to spend two whole days on the freezing mountain.
Informed of their plight, the Himachal Pradesh government first sent up the state helicopter to airlift them but the attempt failed because of fresh snowstorms. Later, two Army helicopters rescued the Karmapa and his group and flew them to Leh.
Himachal's revenue secretary Rakesh Kaushal said the Karmapa, who is still in his 20's, is "safe and in good health."
"The 17th Karmapa and his 13 followers were rescued this afternoon from Baralacha pass in Lahaul and Spiti district," said Mandi divisional commissioner Ashwani Kumar. "The Karmapa and his followers are fine and in good health," said Lahaul and Spiti police chief Prem Kumar Thakur.
The Tibetan leader was on his way to Lahaul to participate in religious ceremonies with local Buddhist residents.
Nearly 400 other Tibetan pilgrims are still stranded on the mountain.
"We have dropped food items, water, medicines and blankets to the people who are stranded on the route to Leh near the high passes Baralacha and Kunzam La," said Sudha Devi, deputy commissioner of Kullu.