Rescued Karmapa reaches Delhi
IANS, Sept 25, 2008
Dharamsala, India -- Tibetan spiritual leader Karmapa Ugyen Trinley Dorjee, who was rescued along with 30 of his followers from snowbound Himachal Pradesh's Lahaul and Spiti district, reached Delhi Wednesday from Leh in Jammu and Kashmir, his aide said.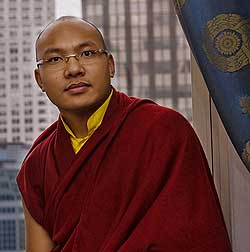 << The 17th Karmapa, Ugyen Trinley Dorji
The 17th Karmapa, who was trapped in snow-laden Manali-Leh highway near Bharatpur, the base camp of Baralacha Pass, was rescued Sunday and airlifted to Leh in an Indian Air Force helicopter.
"The spiritual leader reached Delhi this morning (Wednesday) by an Indian Airlines flight... he will leave for Dharamsala after two days," Gompa Tsering, Karmapa's secretary, told IANS on phone from Delhi.
"Since the Manali-Leh highway is still closed at a number of places and it's not safe to travel on the Leh-Srinagar highway, so we decided to reach our residence in this hill town via Delhi," he said.
After concluding his visit to the Ladakh region, the Karmapa was heading towards Keylong town, the district headquarters of Lahaul and Spiti, when he was stranded after heavy snowfall.
He was marooned along with his followers in the cold desert for more than 48 hours.
The Karmapa is the spiritual head of the Karma Kagyu School, which is one of the four sects of Buddhism. He is considered the third most important Tibetan religious head after the Dalai Lama and the Panchen Lama.
The Karmapa fled Tibet and sought refuge in India some eight years ago. Ever since, he has mostly lived in the Gyuto Tantric monastery in Sidhbari near Dharamsala - the seat of the Tibetan government-in-exile that is not recognised by any country.