Dalai Lama to guide mummifying Mundgod Monk
by PK Surendran, DNA India, October 14, 2008
BANGALORE, India -- Tibetan spiritual leader Dalai Lama will guide the mummifying of the body of the Mundgod monk, Lobsang Nyima Rinpoche in Karnataka, who is believed to have remained for 18 days in "Thukdham," a stage of life after death where the body lies in meditative state without decomposing, and it is commonly practiced by high lamas of Tibetan Buddhism after physical death.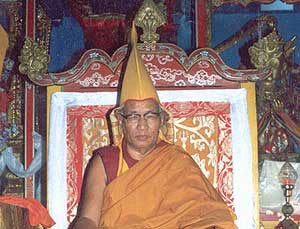 It is also said that during that period the body maintains the inner air. But, maintaining this sate of the body after death is considered possible only with the divine personalities of spiritual powers.
Lobsang Nyama was declared dead by KLE hospital, Belgaum, on September 13, but his disciples and followers in the Mundgod ashram considered their leader to be in "Thukdham" which if prolonged leads to reincarnation, according to Buddhist beliefs.
Consequently, the body was preserved and pooja conducted, and as the days went by, Tibetans and locals thronged the ashram.The Tibetan settlement at Mundgod is located some six hours drive from Goa. This settlement is the largest in India and was founded in 1966. Currently, there are nine camps with two monasteries and a nunnery.
The body had not decomposed weeks after the death. This has evoked great interests among Buddhist scholars and monks and modern medicine. Tenzin Namdul, a Tibetan doctor at the Men-Tsee-Khang, and Dr. Yangzom Dolker of Delek hospital, were sent to Mundgod, to scientifically investigate the effect of Thukdham.
They, along with researchers and scientists from Swami Vivekananda Yoga Research Foundation, Bangalore, and doctors from KLE hospital, had recently assessed the monk's condition.
The doctors measured the effect of this state on the Rinpoche's body through EEG, ECG and body temperature using latest scientific equipment. The Buddhist scientists and scholars have concluded that the spiritual teacher had remained in "Thukdham" for 18 days, reports Phayul, a Tibetan media portal.
The physician of KLE hospital, Dr.Vinay Mahishal, who had examined the monk and pronounced him dead later, told DNA, "There's no doubt that the monk is clinically dead, but I was surprised to see the prime condition of the spiritual teacher's body weeks after his passing away."
"Thukdham' project was initiated last December in collaboration with Dr. Richard Davidson's brain imaging laboratory at University of Wisconsin under the guidance of Dalai Lama, says the report.
The visiting research teams have reportedly expressed great surprise at the continued glow of the dead and recommended a further study of this state, which might help unravel the secrets of life and death.
As soon as Dalai Lama is well and fit to travel, the mummification process will begin. Meanwhile, the ashram continues to draw large number of Buddhists and others.