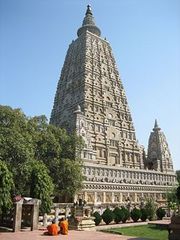 However, shoes will not be allowed within the temple's sanctum sanctorum.
The Bodh Gaya Temple Management Committee (BGTMC) took the decision to lift the ban on entering the temples while wearing shoes.
"The BGTMC decided to lift the ban early this week in the wake of repeated demand made by devotees and tourists to allow them to enter the temple with shoes on," said Nandji Dorjee, secretary, BGTMC.
Hundreds of Buddhist devotees and tourists, particularly foreigners, are now being allowed to enter the temple with shoes on, a big relief during winter and summer months.
Time and again, devotees and tourists complained to the officials about the discomfort they faced while walking bare feet within the temple complex.
"Bare foot entry to temple poses threat to health in chilly winter, particularly during early hours and hot summer season," said another BGTMC official.
In winter, considered a tourist season, temperatures come down to as low as 2 - 4 degrees Celsius. During winter, bare feet entry to the temple to offer prayers was difficult.
The Tibetan Buddhists have been demanding the right to temple entry with boots on, as per their traditions. They do not see anything wrong in entering the temple with boots on.
In 2001 Ugyen Trinle Dorje, the teenaged chief of the Karmapa sect of Tibetan Buddhists defied the ban on temple entry with shoes on. Dorje entered the Mahabodhi temple sanctum with heavy boots, inviting loud protests from the neo-Buddhists.
The neo-Buddhists demanded the invoking of the penal clause in Mahabodhi temple management act, which says that a fine has to be imposed on anybody who entered the buddhist shrine with shoes on.
Then, Dorje made a bare feet entry to the temple to offer prayers.
The 1,500-year-old temple stands behind the sacred Bodhi tree under which Buddha attained enlightenment 2,550 years ago.
The Mahabodhi Temple, declared a World Heritage Site in 2002 by Unesco, is visited annually by thousands of tourists, especially from countries where there is a strong Buddhist community.