'The Buddha keeps us safe in Bihar'
Indo-Asian News Service, Feb 8, 2005
Bodhgaya, India -- In the heart of a "highly sensitive" area, with murders, arson and bomb blasts common around it, Bodhgaya remains an oasis of calm in the frothing turbulence of Bihar.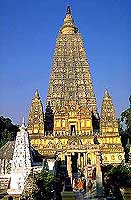 << The imposing Mahabodhi Temple in Bodhgaya
In neighbouring Gaya, the streets are filled with tense, scowling men who peep into cars and glare at passers-by. But the moment you enter Bodhgaya, there are smiling faces everywhere, faces at peace with themselves, and even with the madness around them.
In and around the stone complex of the 3rd century Mahabodhi temple, with its 150-foot tower and the gilded image of the Buddha, pilgrims, ascetics and tourists said they felt far removed from the rest of Bihar.
"There is violence, yes," said monk Kelsang Lode, smiling in the benign way only Buddhist monks can, in his saffron and crimson robes, with a rosary in one hand.
"There is violence all around us. People kill each other even in Gaya," he looked a little downcast, disturbed that hate continued even in such proximity to a shrine of the Buddha.
Then he grew philosophical: "But there's violence everywhere. The Buddha teaches us to fight hate with love. If you can always keep the compassion, that's enough."
But aren't they frightened that the bloodshed, as Maoist rebels clash with private militias of the landlords and goons hired by political parties, will one day touch them?
"The Buddha keeps his people safe," said another monk Somphen Legshey. "And what is one to be scared of? Death? Death is nothing; it's just a passage rite. One is not scared of beginning new journeys."
At this, the site of the Buddha's enlightenment, the overwhelming sense of peace pervades everywhere. So much so that even in the middle of a potentially explosive state elections, visitors are ignoring all advisories to pour in every day.
And to come to Bodhgaya, one has to pass through some of the most volatile and rebel-infested areas in all of Bihar, including sites of past massacres.
"They almost tied me up in Delhi, refusing to let me come," laughed Denise Campet from France. "I was told again and again, don't go, don't go, it is very dangerous.
"But here I am, and I'm a 40-year-old woman traveling all alone. I passed through all the dangerous areas. Nothing happened. When the Buddha calls, you must come."
Indeed, there are no poll signs in Bodhgaya, around 107 kilometers from capital Patna. No campaign posters, no paraphernalia, not a single sign that there is an election on.
The souvenir shops look as sleepy as ever, the temple compound is filled with the usual worshippers, sitting silently, chanting under their breath and counting beads.
The cafes are filled with posters appealing Tibetan freedom, of prayer meets, friendly chess bouts and even of a screening of a film on the Buddha, starring Keanu Reeves.
"We never feel like we are in Bihar," said cyber café owner Anil Lekh. "And there aren't even too many cops here. But we are never disturbed."
Nothing, it seems, disturbs Bodhgaya quietness.
"I've never felt more at home," said Gibi (goes by one name) from Germany. "I know its Bihar, so what?"