INDIA: Reviving Buddhism Where It Was Born
By Kalinga Seneviratne, IPS, Jan 14, 2009
NAGPUR, India -- Over 50 years ago, the author of India's constitution, B. R. Ambedkar, set in motion a Buddhist socio-political movement which many believe is now ready to fructify through Mayawati, chief minister of northern Uttar Pradesh, India's most populous state.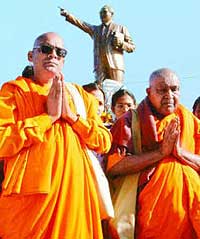 << Dalits in India hope that Buddhism will help them move up the political echelon in India
Both Ambedkar and Mayawati come from India's so-called "untouchable" caste, better known as Dalits (the broken people).
It was in this central Indian city that Ambedkar converted to Buddhism along with a million of his followers on Oct. 14, 1956. Mayawati has not publicly disclosed her religious beliefs, but as a follower of Ambedkar, Buddhists expect her to make his dream come true -- that of obtaining for Dalit Buddhists the right to be treated as equal citizens in the land of the Buddha.
Mayawati, who figures in the Forbes magazine's list of 100 most powerful women in the world, has already declared her ambition of becoming India's prime minister and is expected to make her bid in general elections due in the first half of this year.
"We were converted into Buddhists in 1956, but we still face a lot of discrimination, injustice and violence," said Devidas Ghodeshwar, talking to IPS in front of the impressive 'Deekshabhoomi Stupa' built here to mark the site of Ambedkar's historic conversion, along with thousands of his followers.
The monument is built after the famous Sanchi stupa built in the third century by emperor Ashoka who renounced Hinduism to become a Buddhist. Thereafter, Buddhism flourished in India until the seventh century when it went into a slow but steady decline, mostly owing to a powerful Hindu revival.
Even as Buddhism spread to Tibet, the Far East and South-east Asia, its followers in India suffered persecution.
However, Buddhism has continued to haunt India through the remains of impressive stupas and monasteries, sculptural art, and through its many philosophical concepts and teachings such as non-violence. Other than Dalits (also called neo-Buddhists), sizeable communities of Buddhists continue to hold out in the Himalayan marches of the modern day states of Uttarakhand, Himachal Pradesh, Sikkim and Arunachal Pradesh where they were pushed by advancing Hinduism.
In contemporary India, while attacks by Hindu militant groups on the minority Muslim and Christian communities have drawn the attention of the Indian and international media, atrocities on Buddhists go unreported, mostly because they fall into the lowest rungs of the caste ladder.
In September 2006, a family of Buddhist Dalits -- 45-year-old Surekha Bhotmange, her 18-year-old daughter Priyanka, sons Roshan and Sudhir -- was lynched by an upper caste mob in Khairlanji about 30 km from here.
On Oct. 24, 2008 eight people were convicted for the massacre and six of them awarded the death sentence. But Ghodeshwar says that was a rare instance of justice catching up on such atrocities perpetrated by upper caste Hindu fanatics.
Over the past few years, however, Buddhists have been quietly building up a political base from which to fight caste-driven discrimination. Their hopes have been raised by the rising political fortunes of Mayawati and her Bahujan Samaj Party (BSP) which claims support from the poor and deprived in every caste and religious community.
Many Buddhists believe that her political movement -- which in many ways resembles U.S. President-elect Barack Obama's successful grassroots initiative -- could propel her to the prime ministership of India this year, at the head of a grand coalition of the poor and deprived.
"There's a good number of Buddhist members of parliament and in Uttar Pradesh and [western] Maharashtra states there's a vibrant Buddhist movement,'' says Dhamma Viriyo Mahathera, spiritual director of the All Indian Bhikku Sangha.
"Mayawati is working for all the people. So now, Muslims and Brahmins, day by day, acept that the Buddhists are the people of this country. They are good hearted and they can rule this country well,'' added the monk, himself a former member of parliament.
In this central Indian city of over two million people over 60 percent are believed to be Buddhists -- though most live in squalid and crowded neighbourhoods.
One problem for the Buddhists is that the Hindu establishment does not accept the fact of their conversions or even that Buddhism is a separate faith system. Officially, less than one percent of one billion Indians are listed as Buddhist, but most people agree that the majority of the 200 million Dalits of India follow the Buddhist faith.
"We have converted but still the Hindus aren't accepting that we have been converted and they don't understand that we belong to a separate group now. They refer to the Buddha as the ninth incarnation of the Hindu deity Vishnu and do not see Buddhism as a separate religion,'' said Ghodeshwar.
"We are seen as part and parcel of Hinduism and this is also linked to our oppression and discrimination as Dalits,''Ghodeshwar added.
Yet, there is a palpable air of confidence among Buddhists here. Though they talk with bitterness about their treatment at the hands of high caste Hindus, they are also hopeful that change is on the way.
In the suburb of Kamla, which is a predominantly Buddhist community on the outskirts of Nagpur, though living in cramped conditions, a community leader introduced to IPS many Dalits who are lawyers, teachers, engineers and accountants.
Sadanand Fulzele, secretary of the Dr Babasaheb Ambedkar Smarak Samiti [founded to perpetuate the leader's memory], agrees that Buddhist Dalits are now more confident than they were before. "I was myself converted to Buddhism along with Babasaheb Ambedkar," he told IPS. "Prior to conversion, those who were known as untouchables had an inferiority complex. But now, they feel they are no less than anybody. That's a great change.''
Yet, Buddhist communities, like the one in Kamla, rarely have a resident monk or a community temple. This is in contrast to most Buddhist countries where monks are housed and supported in monasteries or temples, because they are not allowed to earn a living.
"Buddhist communities here are still very poor," explains Fulzele, "We can't build huge monasteries like in Burma, Sri Lanka or Thailand, where there follow centuries-old Buddhist traditions. We only converted 50 years ago".
Viriyo Mahathera is critical of Buddhist countries and organisations that contribute money to build grand temples in Buddhist pilgrim sites across India such as Bodhgaya -- the place of Buddha's enlightenment -- but do not contribute to the upliftment of the Buddhists in India.
The monk, who resides in Bodhgaya, eastern Bihar state, says that while the provincial government has drawn up a master plan to attract investments from rich Asian Buddhist countries to develop the area, it has not associated Indian Buddhists with the plan.
"There should be a Bodhgaya development board where 50 percent of members can be drawn from the (Indian) Buddhist community," he argues. "Monks and Buddhist people can then take active part in the development of Bodhgaya and create a Buddhist environment there".
Sulekhatai Kumbhare, a former minister in the state government of Maharashtra and a Buddhist leader here, argues that the number of Buddhists in India is not large enough to effect political changes. ''We need to get the support of other communities. But Hindus think that because we left their religion we cannot be friends,'' she says.