Whiff of modernity in ancient Tawang monastery
PTI, Jan 30, 2009
Itanagar, India -- Monks fiddling with computers, using cell phones and zipping around on bikes, may appear a bit out of place, but it is common sight at the ancient Buddhist monastery at Tawang in Arunachal Pradesh.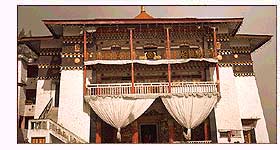 The young monks, however, insist that there was no conflict between modernity and spirituality.
There can be no conflict between modernity and spirituality once control is established over 'desire', senior monks in the 328-year-old monastery told a visiting PTI correspondent.
"We have been using computers to learn Buddhist philosophy and languages like English and Hindi", they said.
For the present, 10 computers have been installed and more will follow. The monastery has infrastructure for upto eighth standard and for 'higher education' the monks are sent to Sarnath in Bihar, they said.
Sitting before an imposing nine-metre-high image of Lord Buddha in the shrine, which is the second largest after the one in Lhasa, Samgeleta, a young monk, said he joined the monastery as a 'bhiksu' when he was only nine.
He believes there is no way other than one shown by Buddha to get over the root cause of miseries in life and has decided to continue his spiritual pursuits as a resident monk of the monastery.
"After 17 years, I still feel I have learnt little of spirituality. Whenever my mind wavers I take refuge in meditation and re-visit the words of Buddha who preached non-violence and desirelessness through self-control as a way of life to get over miseries and attain "Nirvana", the bespectacled monk in crimson robe said.
"Scientists have found solutions to man's problems outside. But what about problems residing inside, relating to the soul, and to find the peace of mind there is no way other than spirituality, he said.