Dalai Lama inaugurates first Tibetan college in India
Phayul, February 17, 2009
The first Tibetan college, named "The Dalai Lama Institute for Higher Education," is located near the Indian IT city of Bangalore

Dharamsala, India -- Exiled Tibetan leader His Holiness the Dalai Lama Monday officially inaugurated and unveiled the name of the first Tibetan college of the exile Tibetan community set up in India.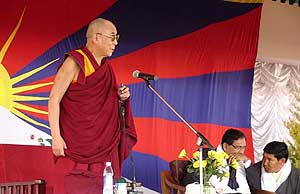 << His Holiness the Dalai Lama addresses the gathering after conducting the consecration ceremony of the Tibetan college in Bangalore. Also seen in the picture are Dr G Parameshwatr, former minister of Karnataka Sstate for education (C) and Mr Ngawang Dorjee, college principle (R) (Photo: Tibet.net)
The first Tibetan college of its kind established by the Tibetan Children's Village is named "The Dalai Lama Institute for Higher Education" and is located near the South Indian city of Bangalore.
Around 3000 people, including Tibetans from the nearby Tibetan settlements and some 300 Bhutanese students studying in Bangalore attended the function.
In his address, His Holiness the Dalai Lama expressed his gratitude to the Karnataka state government for its support in facilitating the establishment of Tibetan settlements and important centres of learning Tibetan religion and culture in south India.
The Tibetan leader specifically urged the Bhutanese students to study Buddhism, saying that the teachings of Buddha (Kangyur and Tengyur) form the basis of the spiritual learning for both Tibetans and Bhutanese alike.
Dr G Parameshwar, former minister of state for higher education of Karnataka State and Mr Kunga Dorjee, chief representative for Tibetan settlements in south India, and several officials associated with educational institutions were present at the ceremonial function.
Lauding the Tibetan Children's Village for its pioneering effort in establishing the first Tibetan college, Dr Parameshwar expressed his hope that it would go a long way in shaping the college academic curriculum that would be carried out by the educational institutions in future Tibet.
In wishing success to the college, Dr Parameshwar announced a donation of Rs 500,000 to it.
The college, located on Mysore road, some 27 kms from Bangalore city, will initially house about 500 students with further plan to increase to 3000 depending on the availability of funding, according to a report on the official website of the Tibetan Government-in-exile.
With a prime mission to inspire Tibetan students to learn Tibetan language and culture as they continue to pursue their further studies, the college will provide a broad spectrum of study curriculum, including science, arts, counseling and, computer and information technology studies.
The college started its first academic session with a teachers' training course in August last year with 71 students and 13 staff members. Having successfully completed their training course, Dr Parameshwar presented certificates to those students during the function yesterday.
On behalf of the administration, Mr. Ngawang Dorjee, principle of the college and formerly the educational director of the Tibetan Children's Village, extended his gratitude to all the well-wishers and donors for their invaluable contributions.