Dalai Lama completes 50 yrs in exile in India
by Anand Sankar, Business Standard, April 1, 2009
New Delhi, India -- Tibetan spiritual leader in exile, the 14th Dalai Lama, Tenzin Gyatso, today called upon the Chinese government to throw open Tibet to "independent, impartial observers" immediately.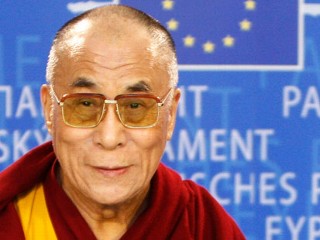 Only that, he said, would settle the trading of opinions that occurs when the Tibetan Government in Exile and the People's Republic of China (PRC) sit down for dialogue.

The 74-year-old Buddhist monk was speaking to journalists in New Delhi on the eve of the 50th year of his exile in India.
On March 31, 1959, he evaded Chinese troops and entered India through the region of Tawang in Arunachal Pradesh. The Dalai Lama said he wanted to use the occasion to "tell India how much it has done for the Tibetan refugee community and himself." "We are burdened to thank India," he said. The Indian government considers Tibet to be a part of the PRC.
Through the day he visited five places of religious importance in New Delhi to pray for "peace in India and happiness for its people." The journey started at the Gandhi Smriti, the spot where Mahatma Gandhi was assassinated and halted at the Acharya Sushil Muni Ashram, Nizamuddin Chilan, Judah Hyam Synagogue, Gurudwara Rakab Ganj, The Cathedral Church of Redemption, Mahabodhi Society and the Laxmi Narayan Temple. At all the spots, he prayed according to the traditions prevalent there and explained later that during his 50-year stay in India he had gained "new knowledge from following traditions other than Buddhism."
Commenting on Chinese claims that Tibetan activists were gravitating towards violent protests, the Nobel Peace Laureate said: "No, I don't think so. Among 100,000 exiles, one or two may be." He did acknowledge growing criticism of his Middle Way approach, which does not seek independence from China, from the younger Tibetans. "There are quite a number critical of our stand. That is their different opinion." The PRC, in its official stand, states conditions are better for Tibetans under Chinese rule.
Recalling that he started taking his titular responsibility aged 16, he said he felt he has been correct on the major decisions and "many Tibetans agree also." He said education is the key for the Tibetans to continue to fight for their rights.
The Dalai Lama said his fascination in the future was to learn more from science and science in turn to learn from Buddhism. "Meeting scientists makes me immensely happy," he said.
Finally, the Dalai Lama was asked to comment on the upcoming general elections, especially the perceived "communalisation" of politics. He cheekily responded: "As far as Indian politics is concerned, I am happy to see it from a distance. A BJP leader came to seek my blessings during the last elections, as well as his opponents. I bless them all. I should be neutral."