India's Buddhist circuit has to improve radically
by Gouri Shah, Livemint.com, May 25, 2009
India is developing in a manner where it is taking people who are below the poverty line along with it in its growth and development process
Mumbai, India -- Former joint secretary in the ministry of tourism Amitabh Kant talks in an interview about his book Branding India: An Incredible Story, the impact of the recent election results on tourism,?and?challenges and opportunities before the brand that's India. Edited excerpts: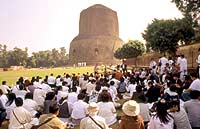 What is Brand India? How has the perception changed over the years?
There has been a radical transformation. India is seen and perceived as a country that is growing and rapidly transforming itself, and that, too, with a strong social equity. The critical issue is that while India advances it should not be an India with two worlds. India is developing in a manner where it is taking people who are below the poverty line along with it in its growth and development process. And I think the present election is an indication of that.
How did you use branding to bring about this transformation?
The branding exercise started in 2002 and India had been through several crises: It had seen the September 11 attacks, it had seen a war in its neighbourhood in Afghanistan, it had seen an attack on our Parliament, it had seen the SARS crisis. The crises were seen as an opportunity and led to several things. One, growth and tourism figures showed us that it was necessary to improve the quality of infrastructure on ground and that a brand is what a brand really does.
So this book talks about a marketing led strategy, what it led to in five years was infrastructure, opening up of the skies, young entrepreneurs emerging and new products like medical tourism. In the last five years, a consequence of the branding exercise was a lot of wealth creation, because tourism grew, earnings went from US $3 billion (Rs14,160 crore) per annum to $11.5 billion.
How do you ensure that the brand you are building internationally matches the reality back home?
That was the hard work, to improve the quality of experience on the ground. The key challenge is to see that this maintenance and operation is constantly done. Another key challenge in a federal structure like ours is to ensure that state governments take ownership of tourism. In the case of Kerala, the state government drove the "God's own country" campaign.
What impact will the election results and the rise of young power have on India as a brand?
To my mind, it would lead to better governance. The election results have shown that states that are well governed have managed to beat the anti-incumbency factor. Also, the good thing about the Incredible India campaign is that it cuts across all political leadership.
What to your mind are the key challenges and opportunities for India as a brand?
There are several. But one of the key challenges is that China by 2020 is going to emerge as a major outbound market, as a function of the Chinese economy growing at a very rapid rate. We also need to tap the Korean and the Japanese markets. The quality of experience on the Buddhist circuit has to improve radically. We could become a Mecca for Buddhist tourists, because we have a huge heritage component. We need to make ourselves more tourist friendly. In terms of opportunity we have the Commonwealth Games coming up, and big sporting events are big drivers of tourism. What India also needs to do is develop itself as a MICE (meetings, incentives, conventions and exhibitions) destination, which is a multi-billion-dollar business.
What has been your best and worst tourist experiences in India?
My best experience has been travelling from Manali to Ladakh. It is a mind-boggling experience. Driving down it really demonstrated to me the vast wealth that India has as an adventure destination.
My worst experience to date as a tourist was when I travelled on the Buddhist heritage road from Bodh Gaya to Nalanda which was terrible in 2001 but has since been done up to international standards. At that time the road, which should have taken us 45 minutes to cover, took us five-and-a-half hours. Also when you went into the Bodh Gaya temple you could hear songs from Love in Tokyo blaring at full volume from the shops outside. But now we're taking these shops 2km away so we can create a meditative atmosphere.
It's good to plan and strategize, but how do you ensure that all the stakeholders in the Indian economy—from taxi drivers to customs officials—share the vision?
More often than not, tourists don't get in touch with the government at all. They get in touch with tour operators, etc. So we started the Atithi Devo Bhavah campaign. We did a film with Shah Rukh Khan about keeping cities neat, clean, tidy; we went into schools and colleges, trained taxi drivers. Now we've done this campaign around Aamir Khan to ensure there is a whole awareness.