Tibetan Buddhists celebrate Karmapa's birthday
IANS, June 26, 2009
Dharamsala/Gangtok, India -- Tibetan exiles in India Friday celebrated the 25th birthday of the 17th Karmapa, Ugyen Trinley Dorjee, the only major monk reincarnate recognised by both the Dalai Lama and China.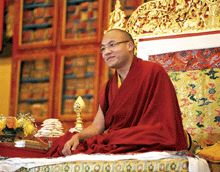 << The 17th Karmapa Ugyen Trinley Dorje
"We (the Tibetans) celebrated the 25th birthday of Ugyen Trinley Dorje in a peaceful manner. Buddhist monks and his well wishers assembled at the Gyuto monastery here to pray for the well-being and long life of the Karmapa," Gompa Tsering, Karmapa's secretary, told IANS in Dharamsala, Himachal Pradesh.
Celebrations were also held at the Rumtek monastery in Gangtok, Sikkim, though without any extravagance.
Born on June 26, 1985 in Kham region of eastern Tibet, Ogyen Trinley Dorje is heir to Buddhists' spiritual leader the Dalai Lama.
However, this year no celebrations were muted because of the demise of Penor Rinpoche, head of the Nyingma sect, and also due to death of a number of Tibetans in in the protests in Tibet against Chinese policies last year.
"Unlike previous years, Guruji has desired that this year his birthday be marked with charitable activities and social awareness programmes. We have not lined up any cultural shows nor are we cutting a birthday cake like we did in earlier years," said Drubgyu Tendhar, a senior monk at the Rumtek monastery.
The monks distributed free eco-friendly dustbins and bedding materials to around 50 schools and social organisations, besides planting flowering trees in and around the monastery where thousands of devotees from all over the state and outside gathered to offer prayers and take part in the religious rituals.
The rituals included offering silk scarves and burning 'Sangsol', Tibetan incense before the Karmapa's photograph, and wishing for his long life and world peace.
The throne of the Rinpoche, as the Karmpapa is called, at Rumtek Monastery lies vacant since the Indian government has not allowed him to come to Rumtek because three others have made claims to the throne.
The Karmapa is the spiritual head of the Karma Kagyu school, one of the four sects of Buddhism. He is considered the third most important Tibetan religious head after the Dalai Lama and the Panchen Lama.
The Karmapa fled Tibet and sought refuge in India eight years ago. Ever since, he has mostly lived in the Gyuto Tantric monastery in Sidhbari near Dharamsala – the seat of the Tibetan government-in-exile that is not recognised by any country.