Tibetans celebrate Dalai Lama's 74th birthday in Dharamsala
ANI, July 6 2009
Dharamsala, India -- Tibetans living in exile in Dharamsala celebrated the 74th birthday of Buddhist spiritual leader Dalai Lama today.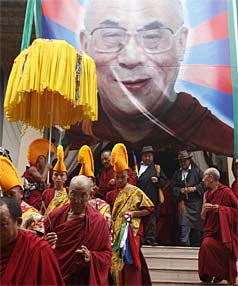 << CELEBRATIONS: Tibetan monks take part in a religious procession to celebrate the 74th birthday of exiled spiritual leader the Dalai Lama at Baudha in Kathmandu on July 6.
Born in 1935 in Tibet, Lhamo Thondup was recognized as the reincarnation of 13th Dalai Lama, at the age of 2.
Scores of Tibetans gathered at main Buddhist temple, Tsugalgkhang and prayed for the long life and health of their leader.
"He (Dalai Lama) himself is in Delhi to attend another meeting where former President of India Mr. Kalam is the chief guest. Here, it is the official's celebration of the Tibetan government in exile, and six parliamentarians from Australia are also here as chief guest," said Lobsang Wangyal, a Tibetan youth.
The Central Tibetan Administration organized the function.
Hoping to celebrate Dalai Lama's birthday in Lhasa one day, thousands of Buddhist monks, nuns and exiled government officials took part in the celebrations.
"All our effort is based on this firm conviction and hope that we will return to Tibet in circumstances which satisfy the majority of Tibetan people and will celebrate both our Losar and his Holiness' next birthday in Lhasa," said Thubten Samphel, Spokesperson Of The Government-In-Exile.
The Dalai Lama was brought to Lhasa in October 1939, and formally installed the head of the state of Tibet on February 22, 1940.
About 134,000 Tibetans live in exile, the vast majority in India or Nepal, and of them less than half were born in their homeland.