His Holiness the Dalai Lama Consecrates New Buddhist Monastery in Kaza
Phayul, July 11 2009
Dharamshala, India -- His Holiness the Dalai Lama blessed and inaugurated the new Sakya Tenggyu monastery located at Kaza in Spiti valley of Himachal Pradesh, on Thursday, 9 July.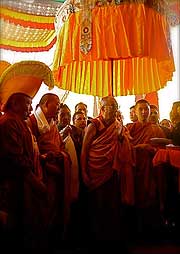 << His Holiness the Dalai Lama performs the blessing ceremony at the monastery's entrance, photo: Wasfia Nazreen, July 9, 2009
During the ceremony, Mendel Tensum (auspicious offerings) and long life prayers (Tenshug) were offered to His Holiness the Dalai Lama.
Dignitaries, including Chief Minister of Himachal Pradesh Prof. Prem Kumar Dhumal and Local MLA Dr. Ramlal Markanda were present at the consecration ceremony. Local residents of Spiti valley entertained the guests with performance of cultural dances.
H.E. Khangsar Shabdrung Rinpoche, in his opening speech said: "I take great honor to pay my solemn reverence to the holy lotus feet of the spiritual guidance of fellow sentient beings; the light of the world; the ocean of wisdom; Messiah of the people who are denied of their fundamental rights; Kalayanmitra of fortunate ones who is seeking the path of ultimate happiness; Buddha of present era; Noble laureate; His Holiness, the Dalai Lama, Tenzin Gyatso."
His Holiness will give a Buddhist teaching today, followed by Avalokiteshvera Initiation on 11 July at the Sakya Monastery.
Coinciding with His Holiness the Dalai Lama's visit to Kaza, the Tibet Museum organised a photo exhibition to commemorate "50 Years in Exile" in coordination with Himalayan Buddhist Cultural Association.
In addition to express gratitude to the government and people of India, the three-day exhibition aims to enhance the cultural relationship between two Buddhist communities and promote awareness about Tibet.
The exhibition will move to Nakoh (14 July) and Poh (15 July) in Kinnaur; Rekong Poe (17 – 18 July); Sangla (19 July) and Shimla (21 July)
Earlier from 2 – 7 July, the Tibet Museum organised series of photo exhibitions at Nubra valley, Sakthi valley, Chemdre, Leh, Ladakh and Zangskar at the request of the Ladakh-based Himalayan Action for Peace in Tibet.