Dalai Lama gives teachings for Taiwanese Buddhists
By Phurbu Thinley, Phayul, October 15, 2009
Dharamsala, India -- His Holiness the Dalai Lama on Thursday began giving Buddhist teachings at the request of around 1000 Taiwanese devotees at the Main Tibetan Temple (Tsuglagkhang) here.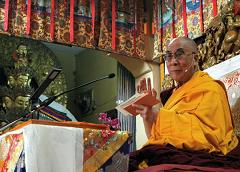 << His Holiness the Dalai Lama gives teaching at the Main Tibetan Temple (Tsuglakhang) in Dharmsala, India, Thursday, October 15, 2009. Dalai Lama is giving four-day teachings to thousands of devotees at the request of a Taiwanese Buddhist group. (Photo by Abhishek Madhukar)
The four-day teachings will cover The Diamond Sutra (dorjee chotpa), Geshe Chekewa's Seven Point-Mind Training (lojong dhondunma) and Tsongkhapa's The Three Principal Paths (lamtso namsum). On the last day, His Holiness will confer the Avalokiteshvera Initiation (chenresig wang).
Over 4000 devotees, including more than 1400 foreigners and some 1500 Buddhist monks and nuns, have registered for the teachings. Besides, several hundred non-registered followers attended the teachings today.
Many waved their hands in joy and others were seen folding their hands in deep reverence as the 74-year old spiritual leader arrived at the teaching venue early this morning.
Speaking in Tibetan through a Chinese translator, the Nobel Peace laureate extended greetings and thanked the Taiwanese and other devotees for coming all the way to hear his teachings.
"It's a wonderful opportunity to see many of you again and I want to say thank you for coming all the way here," the Dalai Lama said before started giving the teachings.
In recent years, Taiwanese Buddhists have been coming to Dharamsala in large groups to seek Buddhist teachings from the Dalai Lama. Around the same time last year some 600 devotees from Taiwan attended his teachings here.
Last month the Dalai Lama visited Taiwan, his third time to the island state, to bless the survivors of Typhoon Morakot, which left nearly 700 people dead after it hit the island on Aug 8.
During the visit, the Dalai Lama visited typhoon disaster areas in southern Taiwan, comforted survivors and held a prayer meeting for typhoon victims attended by 15,000 people.
The Dalai Lama repeatedly said the visit was entirely non-political, but China, as usual, voiced objection and warned Taipei that the visit would damage Taipei-Beijing ties, which have been improving since President Ma Ying-jeou took office in May 2008.
Next week, the Dalai Lama will again give three-day teachings on "The Four Noble Truths" (denpa shi) at the request of a group of Southeast Asian Buddhists here at the Tsuglagkhang. The teachings will start from October 20.