Gyalwang Karmapa wants India as his home
PTI, MARCH 07, 2005
BANGALORE, India -- The 17th Gyalwang Karmapa, who came from Tibet on exile to India more than five years ago, on Monday said that he wants to remain in India, the birthplace of Buddhism.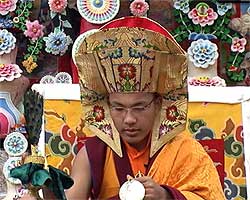 << Gyalwang Karmapa, the head of the Kagyudpa school of Tibetan Buddhism
"I favour very much in the idea of living in this part of the world," Gyalwang Karmapa told reporters here on his first visit to South India that has the largest Tibetan settlements in the country. "India, for Tibetans and for myself, is a very important place, both spiritually and being the birthplace of Buddha dharma. It is infact in many ways home to many Buddhist spiritual leaders," he said.
Gyalwang Karmapa, the head of the Kagyudpa school of Tibetan Buddhism, escaped to India from Tibet in late 1999 and was granted exile by the Indian government.
Karnataka has over 40,000 Tibetans living in settlements in Kollegal, Bylakuppe, Periyapatna, Mundgod and Bangalore city and Gyalwang Karmapa is on a 25-day tour to these camps this month. "I understand there is a dialogue going on between the Tibetan government in exile and the Chinese government. As a Tibetan myself, I would wish for harmonious relations, developing and understanding to take place which is beneficial for all countries and all people involved," he said.
The Karmapa was asked whether he favoured autonomy for Tibet from China as articulated by the exiled Tibetan spiritual leader the Dalai Lama."I can extend good wishes as everything happens in the spirit of friendship," Gyalwang Karmapa said. Asked whether he yearned to go back to Tibet, where he has thousands of followers, he said: "As any child, there is always an yearning to see the home base" The 21 year-old monk, who sports sun glasses in publicity material, said he never thought that he was the face of Buddhism in the modern world, but would take up the role, if warranted. "If circumstances and situation around the world creates or forces that condition, I would have no choice and in fact, I would welcome it," Gyalwang Karmapa said.
He expressed his willingness to adopt any role that can make some difference in benefitting people through the vehicle of Buddhism. Gyalwang Karmapa will open the Nalanda International Institute, a centre for advanced Buddhist Learning, at Byalakuppe settlement on March 16, in which Karnataka Chief Minister Dharam Singh and Deputy Chief Minister Siddaramaiah will participate. The Nalanda institute, which has a conference centre, will also hold round table and international conferences.