The Dalai is god in Tawang, his writ is law
Times of India, October 31, 2009
Tawang, India -- The day starts early at the monastery in Tawang, a rambling structure atop a mountain with clusters of smaller buildings and living quarters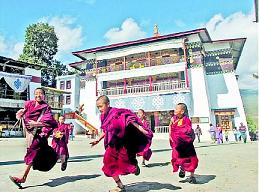 The Dalai is god here, his writ is law arranged around it. The 200-odd child monks, their cherubic faces flushed pink with the cold, rise at the crack of dawn. The youngest is seven years old. They race up to the gompa as the first gong reverberates in the prayer hall. It is 4.30 am. The children are wrapped in warm red-and-yellow robes, their feet pushed into blue rubber slip-ons .
The original monastery, built in 1681 by Merak Lama, a Tibetan Buddhist disciple, has been replaced by a new building. The prayer hall is dominated by a massive gold Buddha, the walls are covered with elaborate murals of gods and enormous engraved pillars hold up the ceiling. The little monks sit in quiet rows on wooden planks lined with cushions. As they begin their chanting, the medieval space suddenly comes alive.
There is palpable excitement in the whole of Arunachal Pradesh, especially in Tawang, as the Dalai Lama's weeklong visit, which begins on November 8, draws near. He will spend five days at the monastery, will take part in special prayers and religious rituals and inaugurate a super-specialty hospital to which he has donated Rs 20 lakh.
Despite the hectic preparations to welcome him, the monks maintain their strict daily routines. After the prayers, which last for about an hour, the children queue up to collect the thick wheat roti and vegetables that make for the first meal of the day. The older monks and functionaries fan out to supervise various works in progress, including the construction of a new museum that will eventually hold rare treasures and artifacts of Tibetan Buddhism.
"We have been preparing for his visit for a year," says the abbot, Tulku Rinpoche. An array of gifts that include a silver and gold dharma chakra (held by Lord Brahma), a conch (held by Lord Indra) and a butter lamp with intricate inlay work encrusted with corals and turquoise, designed by skilled craftsmen from Karnataka, will be presented to the Dalai Lama. An idol of Ami Tayus, worshipped for long life, and a red-andyellow robe tailored at Dharamsala will also be given to him.
As the child monks brush up on their Buddhist philosophy, a subject introduced recently at the monastery's Centre for Buddhist Cultural Studies, so that they are prepared in case the Dalai Lama asks a question or two, the 500 elders prepare for special pujas for the man they consider god. They will not only pray that he has a long life, but also that "peace, compassion and kindness be instilled in Chinese hearts" .
Rushing to the bazaar to buy bamboo poles and bolts of silk which will be used as flags to decorate the monastery for the "great event'' , Phurba, a 35-year-old monk, says he has been praying hard for heavy snow along the border. "This is to prevent the Chinese from entering India.''