Dalai Lama visits Indian border state despite China protest
CNA, November 2009
TAWANG, India -- The Dalai Lama visited a remote Tibetan monastery in northeast India on Sunday at the start of a trip that has infuriated China, which claims the surrounding Himalayan region as its own.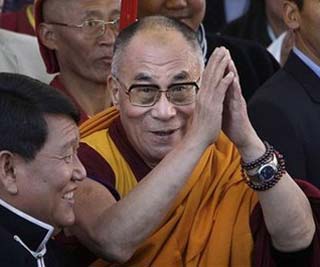 << Tibetan spiritual leader the Dalai Lama arrives at the Tawang monastery in Tawang, in the northeastern Arunachal Pradesh state, India
Thousands of Buddhists gave the Tibetan spiritual leader, who has lived in exile in India for 50 years, a rousing welcome as he arrived at the Tawang monastery, perched at 3,500 metres (11,400 feet) in Arunachal Pradesh.
"We are very pleased and blessed to have His Holiness here," said Sarwang Lama, a monk wearing a new maroon robe, as Tibetan prayer flags fluttered in the cold mountain air and posters of the Dalai Lama adorned walls and rooftops.
The Nobel laureate smiled and waved to excited crowds of devotees, and said he was "very happy" to be in Tawang.
Sandwiched between Myanmar, Bhutan and Tibet, the lush, forested state of Arunachal is governed by India but claimed by China. Beijing has called the visit a provocation aimed at harming relations between China and India.
Tawang - 400 years old and the second largest Tibetan monastery in India - holds strong memories for the Dalai Lama.
When he fled Tibet in 1959 following a failed uprising against Chinese rule, Arunachal was his point of entry to India and he took refuge in Tawang at the start of his decades in exile.
"There are a lot of emotions involved," he said. "When I escaped from China in 1959, I was mentally and physically very weak.
"The Chinese did not pursue us in 1959, but when I reached India they started speaking against me."
Preparations for his week-long tour of Arunachal have been underway for two months, with many buildings receiving a fresh coat of paint and regular prayers held for his safe journey.
It was not his first visit to Tawang but the timing has caused Beijing to protest in far stronger fashion than in the past.
Indo-Chinese tensions over their disputed Himalayan border - the cause of a brief but bloody war in 1962 - have risen in recent months, with reports of troop movements and minor incursions on both sides.
Indian Prime Minister Manmohan Singh toured the region last month during an election campaign, prompting warnings from Beijing about harming bilateral ties.
But the presence in the disputed region of the Dalai Lama, whom China regards as a "splittist" intent on fomenting separatist unrest in his homeland, is seen as a double provocation.
China accused the Dalai Lama and his exiled "clique" of helping to organise anti-China protests that erupted in Lhasa in March last year and spread across the region.
The Indian government has defended the Dalai Lama's right to travel where he wishes in India, and Arunachal Pradesh's chief minister, Dorjee Khandu, said that China had "no right to interfere in India's internal matters."
But commercial links have strengthened between the two booming Asian giants, and New Delhi acknowledged Beijing's sensitivities over the visit by barring foreign journalists from covering it.
"It is quite usual for China to step up campaigning against me wherever I go," the Dalai Lama told reporters after opening a museum at the monastery.
"It is totally baseless on the part of the Chinese communist government to say that I am encouraging a separatist movement.
"My visit to Tawang is non-political and aimed at promoting universal brotherhood and nothing else."
Phuntso Wangchuk, an 80-year-old retired government employee who lives near Tawang and remembers the excitement that greeted the Dalai Lama's escape from Tibet, said Chinese criticism was misplaced.
"A mentor can visit anywhere to bless his disciples," Wangchuk said.
A similar stance was taken by US Undersecretary of State Maria Otero when she visited New Delhi last week.
The Dalai Lama's itinerary will focus on religious teaching, but China will see a possible ulterior motive.
The Dalai Lama is 74 and has had several recent health scares, fuelling speculation over the eventual recognition of his reincarnation and successor.
China is almost sure to make its own selection. The Dalai Lama, however, has stated that his reincarnation may be found outside Chinese Tibet, and Arunachal, with its historically rich Tibetan culture, is an obvious contender.
After staying in Tawang, he will visit other towns in the region before departing next Sunday.