Preserve Buddhist culture, Dalai tells Bomdi-la people
TNN, 13 November 2009
Bomdi-la, India -- The long-cherished dream of people of Bomdi-la, a tranquil and desolate township in Arunachal Pradesh's West Kameng district, was fulfilled on Friday when they got a glimpse of the Dalai Lama who arrived here the previous day.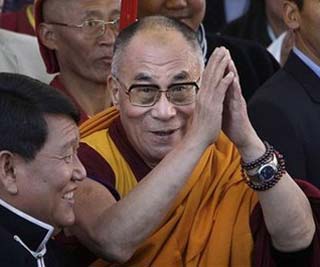 The town wore a colourful look with flags containing Tibetan motifs and inscriptions of Buddhism fluttering. Shops downed shutters and over 10,000 devotees thronged the Buddha Stadium to listen to the Tibetan leader to get lessons on truthfulness, peace and tolerance the essence of Buddhism.
As soon as the Dalai Lama started his speech, everbody was all ears and an aura of spirituality was unmistakable. The Tibetan leader exhorted the people of this remote place to preserve Buddhist tradition and culture and live in harmony to usher in development.
The Dalai Lama also attended a cultural programme organized by local youths in his honour and visited the Gryl Monastery where he was given a traditional reception. On Saturday, which also happens to be the Children's Day, the spiritual leader is scheduled to meet kids and monks from different institutions before leaving for Itanagar where he would offer prayers at Sidhartha and Thupten Gatsalling gompas. He will also interact with intellectuals and people at the Banquet Hall.
On Thursday, the Dalai Lama was accorded a warm reception at Bomdi-la helipad by MLAs RT Khunjuju, Kumsi Sidisow, deputy commissioner, SP, monks of Thubchog Gastsel-Ling and Gaden Rabgyal-Ling monasteries and devotees. People were all along the road which the Tibetan leader was scheduled to take on his way to Thubchog Gastsel-Ling monastery.