Dalai Lama renews pledge for Tibet to stay within China
AFP, March 10, 2005
DHARAMSALA, India -- Exiled Tibetan spiritual leader the Dalai Lama has renewed his commitment not to seek the independence of Tibet from China provided he be left in charge of Tibetan affairs.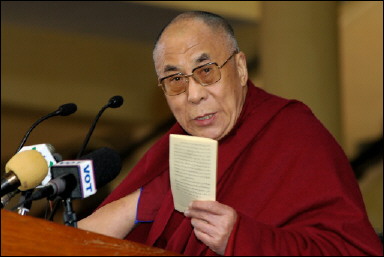 << The Dalai Lama has renewed his commitment not to seek the independence of Tibet from China but added the condition that he be left in charge of Tibetan affairs (AFP)
"As long as I am responsible for the affairs of Tibet we remain fully committed to ... not seeking independence for Tibet and (are) willing to remain within the People's Republic of China," the Dalai Lama said in an address marking the 46th anniversary of the Tibetan uprising against Chinese rule.
The Dalai Lama fled into exile in India in 1959 after the uprising and established his government-in-exile in the northern Indian hill town of Dharamsala.
While he says he is seeking autonomy for Tibet within China, Beijing frequently accuses him of separatism and demands he definitively give up aspirations for independence and recognise Taiwan as part of China before a settlement can be reached.
His supporters have long accused Beijing of trying to wipe out Tibet's Buddhist-based culture through political and religious repression. Direct ties between the Dalai Lama and Beijing collapsed in 1993 and were renewed only in 2002.
In his address Thursday, the Dalai Lama expressed satisfaction at the renewed contacts with the Chinese leadership through his envoys and said he believed the third round of meetings last September showed gradual improvement in the interactions.
"We remain hopeful that eventually we will be able to develop the necessary trust and resolve this long-standing issue to our mutual benefit," he added.
"My involvement in the affairs of Tibet is not for the purpose of claiming certain personal rights or political position for myself nor attempting to stake claim for the Tibetan administration in exile."
The lack of human rights, religious freedom and self-rule in Tibet, however, had left Tibetans dissatisfied, he said, adding that Chinese leaders hold the real authority in the so-called 'Tibet Autonomous Region'.
"China's image is tarnished by her human rights records, undemocratic actions, the lack of the rule of law and unequal implementation of autonomy rights regarding minorities, including the Tibetans," the Dalai Lama said in his address.
He believed the world is changing for the better and opting for peace, non-violence, democracy, justice and environmental protection, he said, pointing to the worldwide support to victims of the December 26 tsunami as an example.
Against this backdrop, he added, China should adopt a "reasonable policy".