His Holiness the Dalai Lama Prays for World Peace in Bodh Gaya
TibetCustom.com, January 6 2010
Dharamshala, India -- His Holiness the Dalai Lama prayed for world peace at Bodh Gaya on Tuesday, where more than 50,000 devotees from all across the world have gathered to hear spiritual discourses by His Holiness.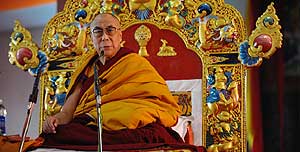 << His Holiness the Dalai Lama starts a five-day teaching series in Bodh Gaya, Bihar, India, on 5 January 2010/
Photo: Office of His Holiness the Dalai Lama
His Holiness also started a five-day religious discourse on the same day. His Holiness preached Nagarjuna's "In Praise of the Transcendental" on the first day.
The devotees include around 1,600 Tibetans who have came all the way from Tibet to hear His Holiness the Dalai Lama, and for pilgrimage to Bodh Gaya where Lord Buddha attained enlightenment 2,500 years ago.
Some 450 Chinese and 3,000 Buddhists from Bhutan and other Himalayan regions are attending the teachings.
His Holiness the Dalai Lama said "he feels proud to describe Tibetan Buddhism as a pure tradition of Nalanda", which was recorded as one of the first great Buddhist center of learning in ancient India.
Speaking to a large gathering of Tibetan monks and nuns at Bodh Gaya, His Holiness said "the Tibetan monastic community are ones who has the responsibility to maintain, preserve and promote the tradition of Tibetan Buddhism."
His Holiness told the Tibetan monastic community to put more efforts in the study of Tibetan Buddhist tradition by cherishing as a global wealth.
His Holiness particularly underlined that "the Tibetan monastic community must strictly adhere to Vinaya rules". His Holiness said it is very shameful and improper to find monks with wife and children.