Sri Lanka police teargas Buddhist monks opposing aid deal
PTI, June 13, 2005
Colombo, Sri Lanka -- Sri Lankan police today used batons and teargas to break a protest here by Buddhist monks opposing President Chandrika Kumaratunga's proposal to enter into a tsunami aid-sharing deal with Tamil Tiger rebels.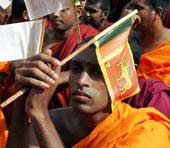 The National Monks' Front tried to take out a procession to Kumaratunga's tightly-guarded official residence here when anti-riot squads fired teargas and chased them away, witnesses said.
They said police pursued the monks to the place where another group of monks were staging a sit down protest, with one of them on a "death fast", and hosed them down with teargas and water cannons until they fled.
"First they teargassed and then move to beat up the protestors with batons," a witness said. "The protest has been completely wiped out." One of the monks, Dhabara Amila, was staging his "fast-unto-death" at the scene. He was taken to hospital after the teargas attack.
Spokesman for the Monks' Front Kalawelgala Chandraloka, had vowed earlier in the day to keep up the protest. He was not immediately available for comment after the police action, which was similar to another attack on another group of Buddhist monks on Friday.
Police used similar measures to disperse dozens of monks and their lay supporters who blocked a main road to Kumaratunga's residence here on Friday.
Earlier in the day, Chandraloka said they were opposed to Kumaratunga involving the LTTE in any effort to disburse aid to survivors of the December 26 tsunami.
Another Buddhist monk gave up a fast on Saturday after Kumaratunga promised that she will consult the Buddhist hierarchy before finalising the aid deal.