Chief Incumbent severely condemns section of monks trying to create anarchy
by L. B. Wijayasiri, Lanka Daily News, June 15, 2005
Kandy, Sri Lanka -- Head of the Sri Abhayaraja Pirivena, Urapola Pilimatalawa Ven. Pandith Moragolle Jinaratana Nayake Thera said right thinking Maha Sangha vehemently condemn the undesirable, undisciplined, aggressive and violent behaviour of some recently in Kandy town forcing shop owners to close business establishments thereby disrupting the peaceful life of people and trying to frighten the Government with the objective of creating an anarchic situation.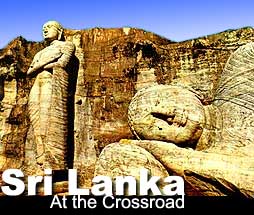 Making a special statement to the Daily News on the recent incidents in Kandy in connection with the fast unto death by JHU MP Ven. Omalpe Sobhitha Thera, Ven. Pandith Jinarathana Nayake Thera said the attitude of some of these Bhikkus was contrary to the Buddha's teachings.
"The Buddha's teaching was that Bhikkus should advise rulers to guide them on the correct path and not to behave violently. The recent behaviour of some Bhikkus who attempted to incite innocent Buddhists to create disturbances, without knowing what the post-tsunami operation machinery is, cannot be condoned," the Nayake Thera said.
The fast unto death by some JHU bhikkus resulted in creating a situation that led to the breach of peace and set the country on fire, he said.
"This too should be condemned. It was observed that undesirable and violent activities of some bhikkus had the indirect support of some of the electronic and print media institutions who had blessings of some opportunist politicians. These politicians want to grab power by hook or by crook," the Nayake Thera said.
The people should realise that there was a conspiracy to help implement a political agenda of political opportunists by making use racial feelings of the people, he said. The Nayake Thera said during the previous UNP rule, UNP leader Ranil Wickremesinghe signed an MoU with the LTTE secretly.
"The contents of this was not made available to the people. Where were those so-called bhikkus at that time? Why didn't they conduct fasts unto death, agitation campaigns or processions? Why did not they take steps to force shop owners to close their shops?" the Nayake Thera questioned.
Ven. Jinarathana Nayake Thera appealed to the Maha Sangha not to be misled by power hungry politicians who attempted to destabilise the country and the program launched by President Chandrika Bandaranaike Kumaratunga who was all out to create economic prosperity and political freedom in the country.