What is happening to the millions donated for tsunami survivors?
By Catherine Philp, The Times (UK), June 18, 2005
Many thousands are still forced to live in temporary camps in Sri Lanksa thanks to official incompetence and bureaucracy
Colombo, Sri Lanka -- SARINA crouches in her tent in the devastated fishing town of Hambantota, sorting through the few children?s clothes that survived the tsunami. Outside the rain begins to fall and with a sigh she pulls down the flaps to stop the water leaking inside.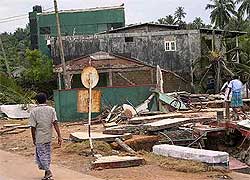 << Sri Lanka - aftermath of the Dec 26, 2004 tsunami (File pic)
?We are tired of being here,? she says as the temperature inside begins to rise and the air starts to swelter. ?We were promised we?d be in houses in six months but still we are living in a tent and we don?t know when we will ever have a home of our own.?
When emergency aid began pouring into Sri Lanka in the days and weeks after the tsunami, it came in a flood through open doors flung wide by a grateful nation. But as the weeks and months have gone by the reconstruction effort has slowed to a crawl, hampered by bureaucracy, incompetence and corruption, much of it on the part of the Sri Lankan Government.
Six months after the tsunami struck, thousands of survivors still live in sweltering tents, while others inhabit temporary shelters that will have to be rebuilt in the coming weeks as monsoon rains grow heavier.
Aid workers call the failure a betrayal that is holding the survivors back from beginning to rebuild their lives.
?It?s a mess,? one United Nations official said. ?We should have all these people properly sheltered by now. But this country is awash with aid money that people can?t spend because they are so busy jumping through the hoops that the Government is putting up for them.?
Hambantota, almost totally devastated in the disaster, was meant to stand as a model for reconstruction across the island with plans to rebuild a town from scratch three miles away from the rubble-strewn bay. But its story so far is emblematic of the chaos and confusion surrounding the rebuilding effort.
Soon after the tsunami, the Government declared that no reconstruction could take place within 100 metres of the shoreline, to create a buffer zone to protect against future disasters. In the case of Hambantota, this accounted for the entire old town, which is sandwiched between a crescent bay and a salt-water lagoon.
Amid great fanfare, ground was broken on a site newly cleared from the jungle, where 2,000 homes were due to be built. Six months later, however, just 47 of those homes have been completed, built by a Buddhist relief organisation and handed to the Government for allocation. Last week only two of the homes were occupied by families ? and they were still coming and going from their tented homes in a relief camp, because the Government had failed to match the building effort with services of its own.
?There?s no electricity or water so how can we stay here?? Fatima, 44, said, looking around the empty living room. ?Tonight we?ll go back to our tent in the mosque.?
Down amid the rubble of the bay where the town once stood, Zaruk and his family are also still living in a tent. Even if the new town had power and water, they would not want to move there.
?I am a fisherman, how can I go and live in the jungle?? he said. ?I want to rebuild my house right here so I can fish again but because we are in the 100-metre zone the Government will not let us.?
Even getting back to sea to earn a living is fraught with difficulty. Three days ago, Zaruk finally received a new boat paid for by an aid organisation and distributed by the Government. But without nets it is useless. Further down the coast there are fishermen who have received nets but no boats. Elsewhere they have boats but no outboard motors.
Aid workers are under few illusions about where the fault lies. ?Once the emergency phase of relief was over, everything we did had to go through the Government,? the head of one international relief agency said. ?And that?s when everything started to slow down.?
Chaos and confusion typify the relationship between the international efforts and the Sri Lankan Government. A UN worker who tried to call the fisheries department to sort out the problems with supply of equipment to fishermen found that no one was there to take her call.
An aid organisation that signed an agreement for a piece of land on which to build, discovered that two other agencies had agreements for the same land. The distribution of fishing boats in Galle almost broke down in a riot after the first five boats were given to fishermen who already had their own.
The remainder were withdrawn in a hurry and still languish in warehouses. Government officials agreed a deal for an aid organisation to build permanent houses, but later the agreement was scrapped because the plans for the homes did not include any bathrooms or lavatories.
A government ministry asked Unicef for two ambulances to help with medical work in refugee camps, but when they finally cleared customs, two months after their arrival, they were hit with a $40,000 (£22,000) tax bill for each one ? more than twice the cost of the vehicles.
The ministry refused to pay and the agency has been left pondering whether it will have to send them back. Oxfam has also had to pay duty of £500,000 for its fleet of relief vehicles. There have been calls for tax breaks to be given to the agencies.
Chamila Andrama, a UN official in Galle, said: ?Organisations have no choice but to work with the Government ? but they make it very hard for us. It?s six months after the tsunami and still very few people have homes or livelihoods. We should have done so much more than this by now.?
While frustration grows in the aid community, anger is building among the survivors. The angriest are the so-called ?100-metre refugees? who lost their homes close to the sea and are now forced to live in limbo, barred from rebuilding their homes where they stood and dependent on the Government to build them a home elsewhere.
In Peraliya, in the shadow of a wrecked train, where the tsunami claimed more than 1,000 lives, the 100-metre refugees sit in tents or poorly constructed wooden huts, gazing at their neighbours just metres away, busily reconstructing their homes. Each of their neighbours has received a chunk of compensation, but for those whose homes were inside the buffer zone there is nothing.
H. L. Gunawardna, the divisional secretary for Galle, said: ?We aren?t giving them any money because they don?t need it, we are going to build them houses.?
But for that to heppen land needs to be found elsewhere, a time-consuming process made even more laborious by the layers of bureaucracy involved. Experts are divided over the wisdom of the buffer zone and even officials admit that without it the rehousing task would be much easier.
Ananda Amaratunga, Galle?s district co-ordinator for the Task Force for Rebuilding the Nation, said: ?If there was no buffer zone we could have everyone rehoused. But this is a government policy.?
For householders perhaps, but not for the wealthy hotel owners who have been granted permission to rebuild right up to the shoreline. Katja Schaefer, who is a rehabilitation adviser with the UN, said: ?We are highly suspicious of the 100-metre rule. People should be allowed to stay there if they want to.?
Most unfortunate of all are those who lived in the buffer zone but did not own their own land and so under the Sri Lankan Government?s policy are not entitled to be rehoused at all. At Katugoda, on the outskirts of Galle, the railway track marks the boundary of the buffer zone. On the shore side, the squatters who lost their homes sit in stifling tents while on the other, builders are busily at work on permanent homes behind the row of temporary shelters already built there. Nobody knows how many there are, because on paper, they do not exist.
?These are the poorest of the poor and there?s nothing we can do for them,? Ms Schaefer said. ?They lost their homes, they?ve lost their families, they have lost everything. They haven?t even started to get over the trauma. To give them a house is the beginning of recovery.?
Aid officials say that the building of permanent homes must be speeded up or the camps of wooden temporary shelters will quickly turn into slums. But people are not holding their collective breath. ?Come back in two years and you?ll still see people living in temporary shelters,? one aid official said. ?With the money we have here that is inexcusable. But if things don?t change fast, that?s the way it looks.?