Green light to rebuild Buddhist temples in post-tsunami Sri Lanka
Asia News, July 5, 2005
The Minister for Buddhist Affairs pledges that funds won?t come from foreign sources and that volunteers from other religions will be kept away.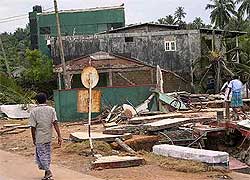 Colombo, Sri Lanka -- The reconstruction of Sri Lanka?s 197 tsunami-hit temples will begin this month, Ratnasiri Wickramanayake, Buddha Sasana Minister or Minister for Buddhist Affairs, said.
The Minister noted that funds for this purpose have already been released by the Treasury and that none will come from foreign donations.
Recently, the decision to share foreign aid between the government and rebel Tamil Tigers had split the ruling coalition with the country?s extreme left and a party of Buddhist monks opposing it.
Temples affected by the tsunami were by and large close to the sea. Under new rules, construction within 100 metres from the coastline has been banned thus forcing temples to be relocated elsewhere and land to be purchased for that purpose.
Minister Wickramanayake urged Buddhist monks to cooperate with local government in each affected area, and in order to encourage them, his Ministry is providing reconstruction plans and cost estimates for land acquisitions.
He said that the work will be done in several phases under the supervision of divisional secretaries and the temples? Dayaka Sabhas (laypeople?s associations involved in temple affairs)
Should the Dayaka Sabhas and local monks insist on rebuilding on original sites, the government will take into consideration their demand.
Wickramanayake further pledged that missionary and volunteers from other religions will be kept away from temple reconstruction.
Sri Lanka?s parliament is currently reviewing two anti-conversion bills promoted by extremist Buddhist monks who want to stop alleged proselytising activities by the country?s other religious communities.