The Rebirth of Sri Lanka
By JOSHUA KURLANTZICK, New York Times, December 25, 2005
Colombo, Sri Lanka -- AT the opening of a boutique hotel and yoga retreat named Talalla Retreat Center, near a long stretch of white beach, an international crowd of stylish guests sips red wine and snacks on canapés. As evening wears into early morning, conversation shifts effortlessly from comparisons of the latest restaurants in London and Sydney to mutual friends burned out working for big investment banks, to high-end yoga teachers who charge $600 a lesson. One man says he's just returned from his 57th trip to Bali.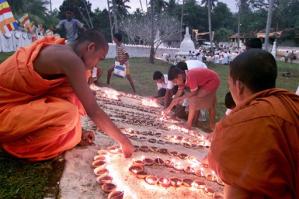 << Sri Lanka commemorates the 1st anniversary of the devastating Asian Tsunami disaster, which killed more than 30,000 of her citizens
Only the subtle undertone of the conversation hints that residents of this area haven't had much to celebrate this year. Late in the night, a Talalla guest mentions the manager of a hotel, now on another part of the island, far from the beach. "He moved because he lost his wife and child to the tsunami," another guest says softly.
Just a couple of years ago, this kind of upscale gathering would not have been uncommon in Sri Lanka. After a cease-fire that halted civil war between the ethnic Sinhalese-dominated government and ethnic Tamil insurgents in 2002, the lush, gorgeous island - Sri Lankans compare their country to the Garden of Eden - seemed poised for mass tourism.
Vacationers began arriving from abroad; small luxury hotels were opening in towns and along untouched coastlines. "In 2003 and 2004, you couldn't get a hotel room," said Varini de Silva, owner of Ceylon Express International, a California-based Sri Lanka tour operator.
But one year ago, some 30,000 Sri Lankans died in the tsunami, villages were devastated, and weeks of news coverage showed the island's coast in ruins. "After the cease-fire, there was this buzz here, because it was like a destination opened again - like Sri Lanka had been found," says Gehan de Silva Wijeyeratne, who owns a travel company there. "After the tsunami, people focused elsewhere. And now, to say, 'Well, we're open again ...' Perhaps you can't get back that same excitement."
Or maybe you can. I've come to the Garden of Eden to see the ruins of palaces and shrines of one of the world's first Buddhist kingdoms, the stunning mix of mountain, jungle and beach. I've come wondering how Sri Lanka had been reborn in the past three years, as the brutal civil war seemed near its end and the country was opened to tourism again, revealing new details of its lost ruins and untrammeled beaches. And I've come to discover what happens to the next hot destination after disaster, whether the tsunami has brought together the island's population or driven it apart-and whether the tourists will ever be drawn to return.
Colombo, Sri Lanka's sprawling capital, had never really caught the buzz. The streets are choked with traffic; in fact, the narrowness of roads across Sri Lanka contributed to my decision to hire a driver and guide, Lalajith Manawadu. The pollution is an Oil of Olay executive's dream. Rather than waking from jet lag, I rose with a moisturizer emergency, my face raw.
But as we drive out of Colombo toward Kandy, the precolonial royal capital and center of Buddhist heritage, and the beginning of Sri Lanka's hill country, I begin to understand why the teardrop-shaped island could be mistaken for Eden.
The air becomes crisp, and the road climbs through thickly forested hills, past jungles crowded with so many jackfruit and teak trees that the plants create a canopy over the road. Sri Lanka has a long history of preservation - the ancient King Devampiya reputedly created a wildlife park more than two thousand years ago - and an enormous array of animals, plants and terrain for a country the size of Ireland. Often, it seemed I would be entering a new ecosystem just around a bend.
About four miles outside Kandy, at the Peradeniya Botanic Gardens, I strolled past a giant Javanese fig tree covered in roots that look like writhing snakes. As it rained, I took shelter in a greenhouse containing orchids in a bewildering array of colors: red, white, purple, purple with polka dots.
Compared with Colombo, Kandy seems like a village. The line to enter Temple of the Tooth, an ancient shrine reputedly containing a tooth of the Buddha, is short, though Lalajith told me that on important festival days, it can stretch for three miles. We arrive in time for the morning puja, a ceremony in which men in sarongs and turbans pound drums to welcome offerings. As the drums sound, pilgrims, some in white robes, others in Armani Exchange T-shirts, prostrate themselves.
Sri Lanka's colorful festivals, which drew both Sinhalese and Tamils after the 2002 cease-fire, are helping in the island's recovery. Last August, when Kandy held the Esala Perahera festival, celebrating the tooth relic, local hotels were unexpectedly packed.
The first high-end boutique hotel in the area, the Kandy House, opened only in August. Former manor of a minister to Kandyan kings, the house has been restored to its glory. After sleeping in a four-poster canopy bed, I sat on the back veranda in the morning, recovering from a swim in the large pool.
The Kandy House is not so unusual: Sri Lanka features a new crop of stylish luxury hotels that keep it on the international travel map. There is a precedent. Geoffrey Bawa, a Sri Lankan architect who died in 2003, was one of the fathers of Asian modernism, which incorporates local motifs to create buildings that reflect traditional Asian architecture. Today, many high-end hotels are refashioned Bawa creations.
Somewhat surprising to me, neither the tsunami nor this fall's violence in northern Sri Lanka, in which suspected Tamil insurgents killed police officers and other officials, has halted the hotel openings. "Hotel owners in Sri Lanka think we're all sitting on a gold mine," because of the undiscovered scenery and English-speaking work force, said Miguel Cunat of Sri Lanka In Style, a new organization designed to promote luxurious sites and services.
Politics seem far away as we climb away from Kandy and into Sri Lanka's traditional tea-growing area, near the town of Nuwara Eliya, in the Hill Country 50 miles from Kandy. Created by British colonists, Nuwara Eliya still has gabled cottages that look as if they were airlifted from Dover. The winding road snakes past waterfalls and terraced plantations of tea and vegetables, which look like layered wedding cakes. The intense moisture has made the area the greenest, mossiest place I've ever seen.
When I open the window, the smell of tea wafts into the car, and I spy women plucking leaves into baskets on their backs. We stop at the Labookellie tea estate, where a guide, Christa, lets me watch the entire process, from plucking to drying to fermenting to tasting. I ask if America contributed to the tea industry. "They invented the tea bag," she says, wrinkling her nose. "No taste. But it does go quickly."
Though Kandy and Nuwara Eliya, being inland, were not struck by the tsunami, their tourist industries seem to have suffered from it. The beach areas apparently are drawing foreigners this year who came for tsunami relief, fell in love with the coast, and are returning for a holiday.
There is no crowd at the Hill Club, a British institution in Nuwara Eliya kept alive by upper-crust Sri Lankans. When I arrive in the early evening, the only person there is an elderly man in a white safari suit. I move from the long bar, which still has a men-only section, to the reading room, stuffed with books on World War I naval operations, to the formal dining hall. No nouvelle cuisine here: Waiters in crisp white suits serve heavy dishes like vegetable timbal.
As we descend from Nuwara Eliya to the southern coast, the scope of tsunami damage becomes clearer. Like the grim reaper's accountant, Lalajith reads off the number of people who died in each beach town.
We reach the south coast, where we will drive between the towns of Galle and Tangalle. In contrast to Thailand, where I'd been during the tsunami, and where reconstruction has gone relatively smoothly, here, a year after the disaster, many villagers are still living in blue tents. We pass gutted buildings like Milton's, an old hotel that was demolished, leaving only a line of toilets like a bizarre Duchamp sculpture. Even the sea turtles who come to the south coast, unflappable survivors, were affected, their egg-laying grounds destroyed.
Yet the south coast is also where the pre-tsunami buzz has come back strongest. The south coast tourist infrastructure has been rebuilt, and foreign residents have founded reconstruction projects like AdoptSriLanka, an aid organization started by Geoffrey Dobbs, proprietor of luxury hotels.
In Galle, the elite-hotel operator Aman Resorts has turned the 17th-century buildings that made up the New Oriental Hotel into a masterpiece called Amangalla, all high ceilings and deep, rich teak floors; Amangalla plugged on despite opening just before the tsunami. One block away, two Australians have revamped a Dutch merchant's villa into the Galle Fort Hotel, with rooms set around a courtyard pool surrounded by colonnades. The inspiration is catching: Around the corner, an 18th-century mansion has been restored into an even more intimate property, the Fort Printers, a five-room boutique hotel. "A lot of people who want to try high-end boutique establishments still probably haven't been to Sri Lanka," says Karl Steinberg, co-owner of the Galle Fort Hotel. "And there's nowhere in the world that's completely safe."
At the coast, I establish a routine of T.B.F.E.: temple, beach, fort, eat. I spend mornings at fanciful shrines, which reflect all the hues of the island, as well as its demons, and which became truly safe only as violence across the island subsided.
One day, we drive to Mulkirigala, where Buddhists carved shrines out of a steep rock face. Inside the caverns, scenes from the Buddha's past come to life in raw colors. Another morning, we head to Kataluwa, where four artists depicted the hells faced by Buddhists who stray from the path, surreal visions of sinners with axes cleaving their skulls apart.
Middays, I head to the ocean. On crescent-shaped Mirissa beach, south of Galle, the sand resembles fine dust. I share the beach only with men perched above the shallow water on stilts, a traditional Sri Lankan fishing style. In the afternoons, I always wind up inside the old fort in Galle, a Unesco World Heritage Site. First built by the Portuguese, the walled city was expanded by Dutch and British colonists and now is the center of boutique hotels, home to the Amangalla, Galle Fort and Printers. The tsunami spared those inside the 90-acre walled city.
Today, Galle is a warren of narrow streets reflecting the cosmopolitan heritage - Marco Polo supposedly landed here, and for centuries the town was a trading capital. Jumbled together are austere Anglican churches painted blinding white, Dutch merchant houses, Buddhist shrines and pastel Iberian mansions topped with orange terra cotta tiles, which give Galle the feel of an Asian Riviera.
The walled city is not a museum in amber. In Courthouse Square, a cluster of colonial buildings, I stumble across Sri Lankan lawyers poring over piles of papers in the hot sun. Later that day, I am nearly overrun by local children, in matching purple and white outfits, singing hymns in unison.
That cosmopolitanism is turning Galle into a nascent Ubud, on Bali, the type of place that draws artsy foreigners who work with locals to create a design community. Down the street from the Galle Fort Hotel, transplants and locals are opening stores like Suthuvili, where a young Sri Lankan artist takes traditional mask styles and updates them, creating long, narrow figures that resemble Asian versions of Modigliani portraits.
Each day I search for curries. Sri Lankan food is not well known, but it resembles South Indian, the curries hotter and coconuttier, the ingredients fresher tasting. At Wijaya Beach Cottage, southeast of Galle, I sample simple fare - grilled local seer fish. At the Sun House, a boutique hotel in the former home of a Galle spice merchant, I gorge on a curry feast. I down piles of string hoppers, the Sri Lankan version of dosa, wafer-thin sweet pancakes. Over the hoppers, I spoon mango chutneys, tamarind curries and pol sambol, grated coconut with a touch of lime and dried fish.
At the Sun House, reading a journal of reflections on the tsunami, I am convinced that Sri Lanka has an almost inexhaustible capacity to handle misfortune. For centuries, the small island survived waves of foreign conquerors. When blight destroyed the island's coffee plantations in the late 19th century, planters desperately switched to tea, which turned out to be a gold mine. A rich international crowd is once again building homes along the south coast.
Better, despite rancor the Tamils and Sinhalese have cooperated on numerous rebuilding projects, an unprecedented change. Even the turtles are coming back; one villager near Tangalle proudly showed me flags marking where the massive reptiles recently laid eggs. Not for nothing does the island's name mean "Lanka the Blessed."
No, I decide, the buzz about Sri Lanka can return - but it will be a more intimate buzz, of a destination appealing to a small number of devotees, who will come back again and again. After all, memories of the tsunami may still turn off many travelers. People who want a stress-free sun holiday will worry about the tenuous political situation, and will head for less exotic destinations in the Caribbean or elsewhere. "We'll get people who come here because they want to come to Sri Lanka, not just any beach," says Christopher Ong, co-owner of the Galle Fort Hotel.
Can Sri Lanka adapt to being an intimate destination, rather than a place for broader tourism, which many locals saw as economic salvation? I don't know. The day after the party at Talalla, Lalajith and I walk to the beach at Tangalle. To me, Tangalle's beach seemed an idyll - we are alone, the kind of solitude virtually impossible to find in Thailand or the Caribbean. "There's no one here," I mutter in bliss.
I glance over at Lalajith. "Yes, no one here," he mutters, frowning. "No one at all." He tosses a rock into the sea and walks back to the car.