Scotland Buddhist Temple provides relief for tsunami victims
by Sunil C.Perera, Asian Tribune, Jan 12, 2006
Colombo, Sri Lanka -- A Scotland based Buddhist Temple has launched number of tsunami development projects for the affected people in various parts of Sri Lanka with the assistance of the government and various international donors.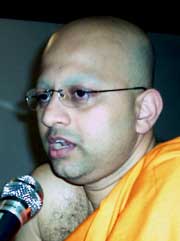 << Rev.Kaburawala Revatha: "We will setup a guidance centre to cater needs of widows in Galle, Matara and Hambantotta. We will open these centers soon."
Chief incumbent of Scotland Buddhist Temple Rev.Kaburawala Revatha thera told media that the Temple has already began presenting scholarships for the tsunami affected school children in Sri Lanka.
"They will receive Rupees 1000 [US$10] per month under the scholarship project," the monk said.
"We give priority to small children. We have plans to setup an orphanage for the affected children who lost their parents. However, most of the affected children are now with their family members or relatives. If they need our assistance to feed their affected children we like to help them," Rev.Revatha said.
"We can provide hostel facilities, education, finance and other needs for them. We will look after them till they reach 18 years," the priest said.
The Scotland Buddhist temple has also launched a program to assist widows who lost their husbands during the tsunami.
"We can provide self employment for them," said visiting Rev.Revatha.
Speaking to media in Colombo, the monk said that through that project they wishes to assist over 200 widows.
"We want to know their skills and needs," said the Reverend.
"We will setup a guidance centre to cater needs of widows in Galle, Matara and Hambantotta. We will open these centers soon. We will provide daycare facilities for their children. Our service is free of charge," said the Bikhku.
The International community is very concerned of the tsunami aid programme. They ask number of questions on aid distribution. So we need to adopt transparency in our work. I am still working with the local authorities to find out the requirements of the affected children who need medical care and financial assistance. Most of tsunami related activities are in a slow progress in Sri Lanka," the monk lamented.
He said that most of the tsunami affected people still say that they did not receive any thing from the government or other organizations. The monk said that they received some video tapes and the tapes showed that tsunami affected people have snatched goods from the organizations which operate in the devastated areas. He cautioned that this type of video documentaries would discourage international donors from coming to Sri Lanka.
Rev.Revatha added, "I have personal experience in the aid distribution. After the tsunami, I went to distribute mosquito nets for the tsunami victims in a camp. However Police and Army officials who were deployed in that location asked mosquito nets for themselves. They are government officials. This is the pitiable situation in the devastated areas."
He alleged, "Some of the tsunami victims are doing money laundering services. Most affected people are doing lucrative business using the tsunami aid."
"The tsunami has brought businesses for them. The international community said Sri Lanka may be a heaven if the authorities correctly used the aid," said Rev. Revatha.