Sri Lanka: Pro-war Buddhist monks in scuffle
Reuters, August 17, 2006
Monks from a right-wing Buddhist faction storms stage during peace rally, shouting pro-war slogans.
COLOMBO, Sri Lanka -- A scuffle broke out Thursday between saffron-robed monks and anti-war demonstrators at peace rally in Sri Lankan capital.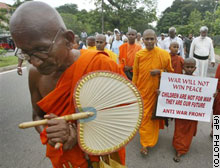 << Anti-war Buddhist monks march for peace in Colombo.
About six or seven monks from a right-wing Buddhist faction had stormed the stage during a peace rally attended by about 1,000 people in the capital, Colombo, shouting pro-war slogans, an AP reporter at the scene said.
A member of Sri Lanka's parliament was addressing the crowd when the monks climbed on stage.
The monks unfurled banners reading "Take your protest to Kilinochchi," referring to the de facto rebel capital in northern Sri Lanka where hundreds have been killed in the last week.
Angry protesters then pulled the monks from the stage and burned their banners, local television showed. There were no reported injuries.
Sri Lanka has been engulfed in more than two decades of civil war as rebel Tamil Tigers battle government forces for an independent homeland in the north and east. At least 65,000 people are known to have died before a cease-fire in 2002, many of them civilians.
---
In Perspective: War and Buddhism
---
The cease-fire has done little to stem the bloodshed in the north and east, and a blast Monday in Colombo that killed seven people has stoked fears that the capital would once again be drawn into the cross-fire.
The monks, which have their own political party and wield tremendous influence among Sri Lanka's predominantly Buddhist population, have campaigned against peace talks with the rebels.
The rally was organized by the National Anti War Front and backed by several dozen religious, political and other high-profile personalities in the arts and entertainment world. They called on the Tamil Tigers and the government to adhere to the cease-fire and return immediately to the negotiating table.