Sri Lanka marks 2nd tsunami anniversary
Xinhua News, Dec 27, 2006
PERALIYA, Sri Lanka -- Sri Lanka marked Tuesday the second anniversary of the tsunami disaster with the prime minister calling for unity in rebuilding the nation.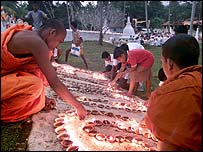 In a ceremony held in Peraliya, about 90 km south of the capital Colombo, Prime Minister Rathnasiri Wikramanayake said the whole country united as one in the aftermath of the tsunami on Dec.26, 2004 that killed more than 35,000 people, displaced one million others and seriously affected the country's economy.
Wikramanayake called on the people to continue to be united in facing any challenge in the future. He also thanked the international community for helping Sri Lanka in the process of reconstruction.
During the ceremony, the prime minister declared the completion of a replica of Afghanistan's Bamian Buddha Statue in Sri Lanka.
The 18.5-meter-high statue, constructed with the financial assistance of Japan's Honganji Temple and Honganji Foundation, is the tallest standing buddha statue monument in Sri Lanka.
In a written message to the ceremony, Sri Lankan President Mahinda Rajapakse said the statue is erected in memory of the original Bamiyan Buddha Statues of Afghanistan destroyed by terrorists and many Buddhist temples destroyed by the tsunami.
"We remember the victims of the tsunami and the many places of Buddhist worship destroyed in that disaster," said the president in his message.
The island country observed two minutes' silence from 9:25 a.m.(0355 GMT) to 9:27 a.m. (0357 GMT) to honor all those who perished during the tsunami.
All motor vehicles stopped running and places of worship belonging to all religions rang their bells in the two minutes.
December 26 has also been designated as the National Security Day to raise public awareness on natural and man-made disasters.
Two years after the tsunami, with the support of about 2.9 billion U.S. dollars pledged by the international community, the government said it has succeeded in resettling the majority of the displaced people and reviving most local industries hit by the tidal waves.
Shanthi Fernando, chief executive officer of the Reconstruction and Development Agency set up to coordinate the rebuilding process, said 56 percent of the houses planned for tsunami displaced families have been completed while housing for another 42 percent was in progress.
Fernando said she was also satisfied with the recovery in the livelihood sector as most industries including fisheries, agriculture and tourism recording a recovery rate of over 80 percent.