Sri Lanka: Vesak celebrated with piety, fervour
Lanka Daily News, May 2, 2007
COLOMBO, Sri Lanka -- Vesak which marks the Birth, Enlightenment and the Passing Away (Parinibbana) of the Noble One was observed throughout Sri Lanka yesterday with fervour, piety and solemnity by millions of Buddhists.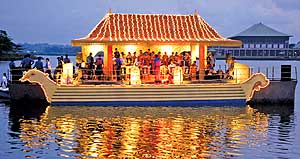 << Sailors sing Bakthi Gee in a traditional float in Sri Jayawardanapura to mark Vesak. Reuters
Devotees of other religions too joined in the celebrations.
Temples throughout Sri Lanka were teeming with white-clad devotees who had flocked to perform the customary Vesak day rites and religious observances. A large number of devotees thronged major Buddhist centres such as Kandy (Sri Dalada Maligawa), Kelaniya, Anuradhapura (Atamasthanaya), Bellanwila, Kataragama (Kiri Vehera) and Polonnaruwa (Sama Cetiya).
The National Vesak Week celebrations, essentially entwined with the nation's cultural heritage and ethos this year too was observed giving prominence to spiritual aspects.
Large crowds thronged the City yesterday to view the colourful Vesak pandals and giant lanterns, the puppetry shows and enjoy the myriad of other amusements while also partaking from the many food and drinks dansalas. Vesak Zones attracted huge crowds near Lake House, Bauddhaloka Mawatha and Kollupitiya-Temple Trees.
People belonging to all communities and faiths were seen along the City roads admiring Vesak pandals and lanterns.
Residences throughout the country were also colourfully illuminated. Pandals are also being displayed in several key provincial cities.
All radio and TV stations featured special Vesak programmes from temples throughout the country.
Some of the posters and banners had quotations from the sacred scriptures to create the necessary religious milieu for the visiting crowds.
Travelling Bhakthi Gee troupes performed at several key venues in the City. Police deployed thousands of personnel both in uniform and civvies to provide security in key cities and warned devotees and sightseers to maintain vigilance.
Special traffic arrangements were in place to accommodate the large number of vehicles entering Colombo.
Vesak was also celebrated in many predominantly Buddhist countries in the region.