'Buddhism, basis of strong bonds of friendship throughout history'
Lanka Daily News, Aug 31, 2007
KANDY, Sri Lanka -- Sri Lanka is not isolated in the international world. It has strong religious, cultural and political bonds with powerful Buddhist countries in the World said Enterprise Development and Investment promotion Minister Dr. Sarath Amunugama.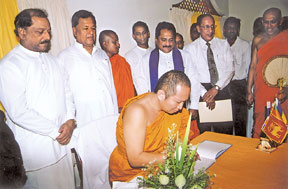 << VISITORS BOOK: Thailand's Chulalonkorn University Chancellor Ven. Dhammakusala Sadaham Thera signing the visitors book after the opening of the Welivita Sri Asarana Sarana Saranankara Sangharaja Nahimi Memorial Buddhist Centre at the Pilimatalawa Suriyagoda Sri Narendrarama Raja Maha Viharaya. - Picture by Udeni Rajapaksa
He was addressing the gathering at the opening of the Welivita Sri Asarana Sarana Saranankara Sangharaja Nahimi Memorial Buddhist Centre at Suriyagoda Viharaya, Pilimatalawa, Kandy. A visiting Thai Buddhist delegation also attended this function.
Dr. Amunugama said certain sections were carrying out adverse propaganda against Sri Lanka portraying it as an isolated country in the international world. He wished to categorically state in the presence of Thai State guests that there was no truth whatsoever in such propaganda and that the country had strong bonds of friendship with nations such as China, Japan, Vietnam, Cambodia, Laos, Thailand and Myanmar which is home for millions of Buddhists.
Buddhism had been the basis of such strong bonds of friendship throughout history. It was most opportune to conduct a 'Dharma Sanghayana' in association with these countries as it would cater to the needs of the Sasana and help further consolidate existing ties of friendship.
Dr. Amunugama said the country and the people in the area were greatly honoured to host a Thai Buddhist delegation at the sacred precincts where the late Welivita Sri Sangharaja Thera lived.
It was on the Sangharaja Thera's initiative that King Kirthi Sri Rajasinghe sent a delegation to Thailand (Siam) to bring back the Upasampada to Sri Lanka. Accordingly, a team of bhikkhus from Thailand came down to Sri Lanka and performed the Upasampada Vinayakarma at the Malwatte Viharaya. The latent Buddhist revival was mainly due to this great service rendered by the late Ven. Welivita Sri Saranankara Sangharaja Thera.
Recalling the services of King Rama of Thailand, Dr. Amunugama said a printing press gifted by King Rama to Ven. Sangharaja Thera and Ven. Sumanatissa Thera set up in Galle as 'Vidyadhara Press' was a great impetus to the Buddhist revival. King Rama who had earlier lived the life as a hermit for 30 years could be called the founder of modern Thailand.
Paying a tribute to Urban Development and Sacred Area Development Minister Dinesh Gunawardena, Dr. Amunugama said Gunawardena was rendering a dedicated service towards the development of sacred areas throughout the country.
Minister Gunawardena said the greatest gift Sri Lanka could give the outside world was Buddhism. The Child generation should be given a proper knowledge and awareness about Buddhism to ensure its development and perpetration.