Ven.Soma's death: Culprits roam freely
by Janaka Perera, The Buddhist Channel, Dec 12, 2007
Colombo, Sri Lanka -- Is there a deliberate attempt to cover up the real causes that led to the untimely death in Russia of popular Sri Lankan Buddha Dhamma preacher the Venerable Gangodawila Soma Thera exactly four years ago – on December 12, 2003?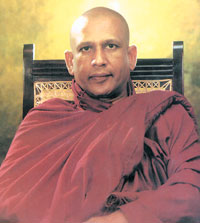 << The late Venerable Gangodawila Soma Thera, who died mysteriously in Russia on Dec 12, 2003
This question is being raised by concerned Sri Lankan Buddhists who have been driven from pillar to post when they called for explanations from the Sri Lankan authorities on this matter.
No follow up action has been taken on the report Presidential Commission appointed to probe the monk's death under mysterious circumstances. Although in March this year President Mahinda Rajapaksa reportedly appointed a committee comprising senior police superintendents to investigate the failure to take action on the Commission report, it appears that so far nothing has happened beyond the usual game of appointing commissions and committees.
It is quite clear that all the evidence that have surfaced since the venerable monk's death was a result of deliberately creating conditions for him not to receive proper treatment in the event of a cardiac arrest, since he had already been categorized as a heart patient.
So while Ven. Soma's death itself was clearly the result of natural causes it is also very obvious that the tragedy was cleverly manipulated by luring him to visit Russia all by himself at the height of winter in order to accept a degree that is of dubious importance.
What the Sri Lankan Buddhist public wish to know is why so far no action has been taken against the two persons responsible for this – Shanthi Jayasekera and Sisira Jayasekera. The report they gave to former President Chandrika Kumaratunga on this matter exposes their complicity through willful negligence.
They had taken absolutely no interest to find out whether the Ven. Soma was taking necessary medication on his trip to St. Petersburg despite the advice of well-known cardiologist Dr. D.P. Atukorale who had earlier warned that the monk was likely to suffer a heart attack during overseas travel.
Even after the monk fell seriously ill Shanthi Jayasekera in Russia had not taken the trouble to inform doctors in the quickest possible time. Instead he had allowed the patient to suffer for nearly four hours until he reached St. Petersburg from Moscow by air.
Even the doctors who came in an ambulance were shocked to see that the patient had been given no medical assistance until then. His condition was so grave that he required immediate surgery. Even then the two Jayasekeras had informed neither the Sri Lanka Embassy in Moscow nor the Dharmayathanaya in Maharagama where the Ven. Soma resided in Sri Lanka.
The two of them should have rushed him to a hospital in Moscow for surgery for which money had been allocated. But they did not do it and instead let him travel to St. Petersburg.