Amadahara Vesak Sadaham Kalapaya begins on Monday
by Ananda Kannangara, Sunday Observer, May 18, 2008
Colombo, Sri Lanka -- The seventh "Amadahara Vesak Sadaham Kalapaya", conducted by the Associated Newspapers of Ceylon Ltd (Lake House) in collaboration with the Hayleys Consumer Products Ltd will begin in Colombo tomorrow at 6.00 p.m. under the patronage of Media Minister Anura Priyadharshana Yapa.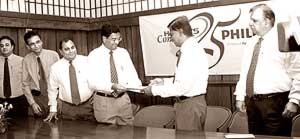 << From left: General Manager, Commercial, Director/CEO, Trevor Reckerman, Managing Director, Rizvi Saheed representing Hayleys Consumer Products Ltd and Director, Upul Dissanayake and Director Finance Shan Shanmuganathan representing Lake House, at the signing of the agreement on Wednesday. Pic: Sudath Nishantha
The three-day mega religious program will be held from May 19- 21 under the patronage of Ministers Mahinda Yapa Abewardana and Laxman Yapa Abewardana.
A discussion in this regard was held at the ANCL board room, last week with the participation of ANCL Director Finance, Shan Shanmuganathan, Director Upul Dissanayaka, General Manager Abaya Amaradasa, Manager (Corporate Relations), Waruna Mallawaraachchi, Director/CEO, Hayleys Ltd., Trevor Reckerman, Director M. Rizvi Zaheed, Head of Lighting, Janaka Kiridena and Manager Communications Suriya Bibile.
The Lake House main roundabout will be decorated with Buddhist flags and the area will be illuminated during the season. In addition, D.R. Wijewardena Mawatha, Chittampalam A Gardinar Mawatha and York Street will also be illuminated.
Meanwhile, various Buddhist organisations have made arrangements to exhibit mega Vesak lanterns and pandals, and also to conduct Bakthi Gee (Devotional songs) programs and stage dramas during the Vesak season.
The Lake House Buddhist Society will conduct the 19th annual Vesak Lantern Competition opposite the ANCL premises.
Around 75 competitors from various parts of the country will display lanterns, made of local raw material. All leading public and private sector institutions and banks in the city of Colombo will assist Lake House to conduct the program.
A number of voluntary organisations, Buddhist societies and Buddhist temples have extended their cooperation to make the event a success.
The Independent Television Network and Lakhanda Radio will make a special broadcast on the proceedings of the "Amadahara Vesak Program".