Muted celebrations to mark Vesak in Sri Lanka
The Sunday Times, May 18, 2008
Colombo, Sri Lanka -- Security in Colombo city has once again become a matter of grave concern, following Friday's bomb blast in the Fort. Consequently, Vesak celebrations this year are expected to be on a low-key, especially in the more densely populated areas, while religious practices associated with the Vesak season will be observed as usual islandwide.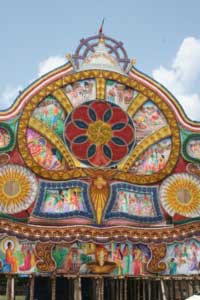 This week Buddhists across the country will observe the 2,552nd Vesak Poya Day. Traditional practices associated with Vesak include all-night pirith chanting in temples, lantern displays and competitions, bethi gee festivals, and other activities, as well as the setting up of pandals and dansalas. However, many of the Vesak activities this year will be scaled down in view of the current situation.
In Colombo, there will be all-day Vesak celebrations tomorrow at the residence of V. J. M. Lokubandara, the Speaker of the House, with more than 1,000 schoolchildren invited to observe sil and take part in a Vesak lantern competition.
The pandal and dansala set up every year in the Pettah, between the Fort Railway Station and the Pettah bus stand, has been cancelled for security reasons. The cancellation follows discussions between the organisers, the Fort United Bodhiraja Foundation, and Dinesh Gunawardena, Minister of Urban Development & Sacred Area Development.
Meanwhile, despite the tension in the city, Buddhists from all walks of life and backgrounds went ahead with decorating their homes and premises, including young Buddhist monks at the Gangaramaya Temple and Air Force personnel posted at Bauddhaloka Mawatha.
In Anuradhapura, a programme that includes sil, a lantern competition and a bethi gee festival is scheduled for tomorrow. The programme has been organised by the Shrawasthipura Sri Naga Viharaya in association with the Ministry of Religious Affairs, the Department of Buddhist Affairs and the Anuradhapura District Secretariat.
In Nuwara Eliya, the District Secretariat, the Provincial Secretariat and the Municipal Council, in association with other government and non-government organisations, have organised a Vesak programme that includes sil and a lantern competition to be held in the Nuwara Eliya Indoor Stadium on Tuesday and Wednesday.