Canadian mission in Sri Lanka to reopen amid protests over disrobing monks
Khaleej Times, (AFP), October 29, 2004
COLOMBO, Sri Lanka -- Canada's mission in Sri Lanka is to re-open, a week after an anthrax scare sparked a diplomatic crisis, which deepened Friday after Buddhist monks described how they were forced to strip.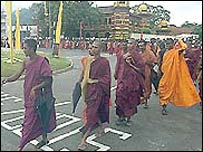 The Canadian High Commission told callers that visa applications could be lodged from Monday as three monks broke their silence and said they were forced to strip and bathe at the diplomatic compound.
Sri Lanka's main opposition United National Party (UNP) Friday joined the chorus of protests against Canada's treatment of the clergy, accusing the government of not taking action against the diplomats responsible.
"The government must take decisive action to ensure that this sort of thing does not happen again," a party spokesman said.
"We also ask the Canadians to hold an internal inquiry and discipline the officers who mistreated the monks."
Ports, Aviation and Media Minister Mangala Samaraweera said Colombo viewed the incident with serious concern and had lodged a formal protest with the Canadian mission.
The three monks, one Sri Lankan and two Bangladeshis studying in the island, visited the mission Monday to obtain visas. But police said talcum powder in one passport caused diplomats to panic and seize all of them.
The monks had earlier refused to comment on their ordeal and the two foreigners were thought to be Thais.
However, the monks told the Sinhalese language Divaina newspaper that Canadian staff forced them to violate Buddhist traditions by stripping them and forcing them into a bath. Even while bathing monks must have a saffron cloth on them.
The two Bangladeshi monks, identified as Sugathananda and Ajithananda, said embassy staff also prevented them from having their lunch which they are required to take before noon.
"We told them that if we forgo lunch, we cannot have any meal till the next morning, but they were not interested in anything we told them," one of the monks told the paper. "They wanted us to strip and get into a pool."
The monks rejected a statement from the spokeswoman of the Department of Foreign Affairs in Ottawa, Kimberly Phillips, who said they had been offered a separate changing facility with a private shower stall.
"Only the Sri Lankan monk accompanying us was allowed a shower stall while the two of us were humiliated and asked to get into a public pool," the two Bangladeshi monks said, adding that they were forced against their will.
Police said the monks were made to disrobe and the passports and robes were sent for forensic tests which officials here Friday said turned out to be negative.
The monks said they told Canadian staff that they had simply sprinkled some "baby talcum powder" to prevent silverfish attacking a passport.
"If they were so suspicious, we were ready to inhale the powder. We were even ready to eat it," a monk said.
There has been no statement from the Canadian mission here but Phillips insisted that Colombo police reports were "completely erroneous".
"New robes were purchased for them so they could leave their potentially contaminated robes behind," she said.
The National Heritage Party, which has nine Buddhist monk legislators in parliament, said Ottawa's denial was confirmation of the ordeal the monks were put through.
"We are arranging a demonstration outside the Canadian High Commission," said spokesman Udaya Gammanpila. "We are waiting for them to re-open."
Police said the diplomatic mission had held the monks virtually prisoner and denied them access to a telephone, even to inform their colleagues about their plight.