Hiroshima monk to invite Fukushima students to A-bomb anniversary
Mainichi Shimbun, May 22, 2011
HIROSHIMA, Japan -- Buddhist monk Hoji Okamoto and some of his colleagues are making arrangements to invite a group of junior high school students from Iitate, designated as part of a no-go zone due to the ongoing crisis at the Fukushima No. 1 nuclear power plant, to have dialogue with victims of the 1945 Hiroshima atomic bombing in August.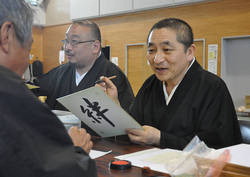 << Buddhist monk Hoji Okamoto hands his autographed paper with "kizuna" (bond) written on it to an evacuee, along with fellow monk Joju Hosoda, at an elementary school in Minamisoma, Fukushima Prefecture, on May 1. (Mainichi)
Okamoto, 55, has preached at a nursing home for elderly A-bomb victims at Hiroshima's Naka Ward for the last 10 years. "Because Hiroshima suffered damage from radiation, it can share the sorrow the people of Fukushima are experiencing," he says.
Okamoto visited morgues in Minamisoma and Soma to recite sutras for a total of seven days in April and May.
At two evacuation centers in Minamisoma, evacuees asked him for his autograph. One of the evacuees, an elderly woman, asked him to write "shinsai" (earthquake disaster) on pieces of thick paper.
"I was surprised (by her request) because many people asked me to write forward-looking phrases," Okamoto recalled. The woman lived alone and lost her house in tsunami triggered by the March 11 earthquake.
"I don't want to forget the disaster," the monk quoted the woman as telling him. So he wrote, "shinsai inochi" (earthquake disaster, life) to reflect the survival of a person's life.
Okamoto and his fellow monks decided to arrange dialogue in Hiroshima between A-bomb survivors and the group of Fukushima junior high school students because he said, "There are people in Fukushima who have had the experience of being discriminated against like people in Hiroshima who suffered similar discrimination in the past."
The Fukushima students will stay at a facility run by the Jodo Shinshu sect of Buddhism during their projected trip to Hiroshima from Aug. 4-9. "We want the junior high school students to have hope. We want to broaden the venue to understand the feelings of the people of Fukushima," Okamoto says.