Japanese temple bans yakuza gangsters
AFP, Nov 20 2011
Shiga, Japan -- A prestigious Buddhist temple has informed Japan's largest yakuza crime syndicate, the Yamaguchi-gumi, that it will no longer accept visits by its members, a temple official said Saturday.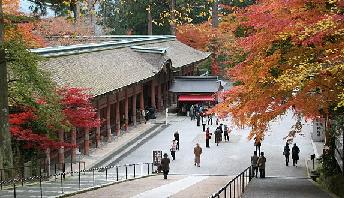 << Enryakuji temple

Enryakuji temple in western Shiga prefecture -- a UNESCO World Heritage Site with a 1,200-year history -- houses Buddhist tablets carrying names of the dead, including those of late yakuza bosses, the official said.
"The temple has accepted pilgrimages from direct family members as long as it is a small group," said the unnamed official.
"But we have seen visits by people who are obviously not family members. We concluded that it would not be preferable if their group's visits became a regular practice."
In April 2006, Enryakuji held a major memorial service for the late bosses.
A total of 90 gang members from across the country reportedly gathered, sparking calls from police to cancel such events, which funnel funds to the group.
The temple had continued accepting visits by small groups of family members but came to the latest decision, backed by the increasing trend in Japanese society to reject the influence of the yakuza, the official said.
Enryakuji informed the Yamaguchi-gumi of its decision in late June and received a reply in July that the syndicate accepted it, he said.
The Kobe-based Yamaguchi-gumi is thought to have more than 50,000 members, accounting for more than half of the nation's gangsters.
The yakuza have been closely monitored but largely tolerated by the authorities and operate out of corporate headquarters that are listed in phone books.
Like the Italian mafia or Chinese triads, they have engaged in activities from gambling, drugs and prostitution to loan sharking, protection rackets, white-collar crime and business conducted through front companies.
But many local administrations are reportedly preparing to put ordinances in place to ban commercial transactions with yakuza-linked entities.