Bringing management lessons to Buddha
by Michiyo Nakamoto, Financial Times, Apr 2, 2012
Tokyo, Japan -- In Japan, where on-the-job training is often valued more than academic qualifications, an MBA is not an obvious step to career advancement – particularly if you are a Buddhist monk.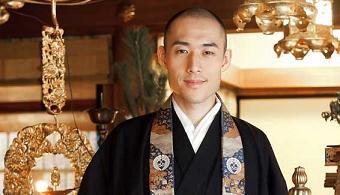 << Agent of change: Keisuke Matsumoto
But Keisuke Matsumoto had a grander goal in sight when he decided to take a break from his job as a monk at Komyoji Temple in Tokyo and attend a one-year MBA programme in India.
Mr Matsumoto wanted to acquire management skills to help him realise his vision of transforming Japan's Buddhist temples into something more relevant to modern Japanese society. The 32-year-old believes temples should be what Peter Drucker, the management consultant, called "change agents", offering people a place where they can achieve their spiritual awakening.
Born in Hokkaido, Japan's northernmost island, Mr Matsumoto was drawn to Buddhism after reading books that his grandfather, a Buddhist monk, had introduced him to as a child. After gaining a degree in philosophy at the University of Tokyo he became a monk in 2003.
"I wanted to change the world of Buddhism and in order to do that, you have to enter that world first," he says.
Growing demand
In the days when Japanese companies enjoyed robust growth, it was common to send promising young employees overseas to study at US business schools, almost as a reward for their hard work.
Senior executives at several large Japanese companies are among those who benefited from the practice, including Takumi Shibata, chief operating officer of Nomura, Takeshi Niinami, chief executive of Lawson, Japan's second-largest convenience store group, and Hiroshi Mikitani, founder and chief executive of Rakuten, the country's largest online retailer. All three went to Harvard Business School.
The practice continues today, although on a somewhat smaller scale because companies are no longer so generous when it comes to giving their employees a break to improve their academic credentials.
However, there has been a surge in the number of business schools in Japan after deregulation opened the doors to specialised graduate schools and allowed companies to set up such schools as well.
From just a handful a decade ago, Japan now has more than 30 business schools offering MBAs, including the Japanese arms of western universities, such as Temple of the US and Canada's McGill. Most of these schools cater to individuals who are working full-time or those looking to start their own business or go into consulting, says Yoshito Hori, the dean of Globis. Consequently, classes tend to be held at night and at weekends.
Globis, in Tokyo, is the largest business school in Japan, with 360 students. Although it runs a full-time MBA, the majority of its students are enrolled in the part-time programme.
The lack of labour flexibility in Japan means few people leave their jobs to go to business school, while many traditional companies still consider on-the-job training to be more important than the skills acquired on an MBA course.
However, attitudes are changing rapidly as more Japanese companies are expanding globally, which in turn is increasing demand for management training, Mr Hori says.
More than half of Globis's revenues come from in-house training for the employees of large Japanese companies, including their international workers, says Mr Hori
He had long been troubled by the fact that although there were many temples in Japan, they were making little contribution to society.
"There are 70,000 to 80,000 temples in Japan, which is more than the number of convenience stores in the country. But temples are not making their mark on society in the way convenience stores are."
He believed that temples had become ossified in their traditional role of performing funeral services and other rituals and were failing to fulfil their mission of serving the spiritual needs of contemporary society.
"What is important is the value of Buddhism, as a religion, to people who are alive now. I wanted to change Japanese Buddhism so that it would be relevant for today. A temple should be run with a view to providing value to people in this changing world. That is the real mission of temples."
After working at Komyoji for seven years, Mr Matsumoto decided that a business school education would help him discover "how to manage a temple as a mission-orientated organisation" that could provide value to society. The leadership training at business school, he believed, would be useful in his quest to change the way temples operate in Japan.
"Monks study in their respective sects but they only learn about Buddhism. But you can't manage a temple with just the study of Buddhism," Mr Matsumoto says.
It is as important for a monk working at a Buddhist temple as it is for a corporate executive to be able to manage people, he adds, although a monk has to do so not with the aim of making money but of serving society.
Business school seemed to be his best chance for acquiring the necessary skills to manage people, since it is "a place that nurtures leaders, whether in the field of business or non-profit organisations", he says, adding that it is "a place to study the template for how to move an organisation and provide value as an organi­sation and have an impact on society. And then you customise that to your specific situation".
He chose the Indian School of Business at Hyderabad. "They say an MBA changes your life and they say India changes your life," he says, and so he believed that combining the two would be a good idea.
He also thought that if he was going to meet the challenge of going to business school, he would rather go overseas than remain in Japan.
"I thought it would be better if the hurdle was high," Mr Matsumoto says. He was awarded a Rotary scholarship and in spring 2010 he became the first Japanese person to attend ISB.
One lesson he brought back from the school was the importance of thinking "outside-in" rather than "inside-out", which essentially means putting the customer first.
Monks are the archetype of inside-out thinking – their attitude is that Buddhism is a good thing so you should adopt its teachings, Mr Matsumoto says.
"There is a tendency to enforce things, to speak in a one-sided manner regardless of whether the person listening understands or not.
"But ... it is important to listen. Rather than saying, 'this is what we have to give you', it is important to understand what the other person needs, what is troubling him and what we need to do in order to solve that," he says.
On his return from ISB, Mr Matsumoto changed the way he ran "Kamiyacho Open Terrace", a temple café, which he had started as a way to reach out to the community.
Before business school he thought that once the café attracted a flow of people it would be a good place to spread the teachings of Buddhism. However, he now takes an outside-in approach and asks visitors what they want from the temple and the monks.
Mr Matsumoto was also struck by an idea from his lessons on customer relationship management: that customers should be thought of as individuals, rather than as a mass, and that one should adapt one's approach to each customer.
This idea can be found in the Buddha's practice of teaching according to the student's ability to understand, says Mr Matsumoto. "I was struck anew by the Buddha's management capability," he says.
Armed with his business school skills, Mr Matsumoto is spreading the word within the Buddhist community about how to transform temples and demonstrate their possibilities.
"Temples are a real social media, in the sense that they are a really good place to communicate new values and develop self-awareness," he says. He is confident temples will be the starting point for re-energising Japan.