Religious leaders call on higher power against nuclear reactor restart
By RIE YAMADA, Asahi Shimbun, June 6, 2012
FUKUI, Japan -- Religious leaders from Buddhism, Christianity and other faiths are calling on a higher authority as they join the campaign against the restart of two idled reactors at the Oi nuclear power plant, operated by Kansai Electric Power Co.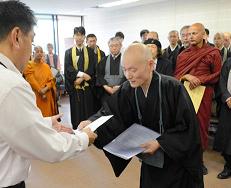 << Buddhist monk Tetsuen Nakajima submitting the petition to Mikio Iwanaga, a Fukui prefectural government official
They submitted a petition to Fukui Governor Issei Nishikawa asking him not to agree to the restart, which the Noda administration is pushing for before midsummer.
On May 30, about 100 members from the Interfaith Forum for Review of National Nuclear Policy gathered in the prefectural government office in Fukui.
"We want to think together about how to create a prefecture that does not depend on nuclear power," said Buddhist monk Tetsuen Nakajima, who is serving as the chief priest of Myotsuji temple in Obama, Fukui Prefecture.
Mikio Iwanaga, a Fukui prefectural government official who accepted the petition, said, "We want to ask the central government to ensure safety at nuclear power plants."
In the petition, the leaders criticized government leaders for only thinking about jobs, the need for electricity and safety from a technological aspect as they seek to restart the reactors.
They also demanded that the Fukui prefectural government share some of the hardships resulting from the accident at the Fukushima No. 1 nuclear power plant and awaken to the "stupidity" of the operation of nuclear reactors, which is conducted even knowing that residents and workers will be exposed to radiation.
One of the 100 religious leaders was Tokuun Tanaka, 37, a priest at Dokeiji temple in Minami-Soma, Fukushima Prefecture, who evacuated to Sakai in Fukui Prefecture after the accident at the Fukushima No. 1 nuclear power plant in March 2011.
Tanaka evacuated to Fukui Prefecture along with his wife and four young children as he had previously received his ascetic training in Eiheiji temple in Eiheiji, also in Fukui Prefecture.
Since coming to Fukui Prefecture, he has often returned to Fukushima Prefecture where many of his Dokeiji temple's parishioners are still residing. He has talked with them and asked what difficulties they are facing.
"Some towns in Fukushima Prefecture may have become rich thanks to the nuclear power plants there. But many people there are now regretting that. They are lamenting that an irrevocable situation has taken place," Tanaka said.
When he evacuated to Fukui Prefecture, he had concerns as the prefecture is home to the largest number of nuclear reactors in Japan.
"In Fukushima Prefecture, we were pretending to believe the safety myth (of nuclear power plants). We were lulled to sleep. But we were awakened forcibly. Fukui (Prefecture) is still sleeping. It should take a step forward before the suffering like the one in Fukushima occurs," Tanaka said.