Young monks pitch new ways to teach old values
By HIROSHI MATSUBARA, AJW, February 09, 2013
Tokyo, Japan -- Put it down to good karma. More than 100 curious citizens
applied over the Internet for the chance to feast on vegetarian fare at the
table of Kakuho Aoe, chief monk of the Ryokusenji temple in Tokyo's
Asakusa district.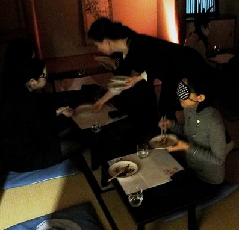 << Blindfolded diners cautiously nibble at dishes placed in front of them during a recent "Kurayami Gohan" event at Ryokusenji temple in Tokyo's Taito Ward. (By Hiroshi Matsubara)
But only the first 13 were accepted.
As the diners were escorted into a backroom one recent evening, they looked more nervous than excited.
In the event called "Kurayami Gohan" (eating in the dark), guests are treated to eat a course of basic Buddhist cuisine--tofu, rice, vegetables and other simple dishes, along with broth. But they have to wear blindfolds during the one-hour course.
Their verdict on the food? Highly original and delicious.
Then Aoe posed a question that almost sounded like a Zen riddle: When was last time they had eaten a meal in such a picky and earnest manner.
Almost to a person, the diners responded with "no" or "probably never."
Afterward, Aoe, 35, said with a satisfied smile that his mission was accomplished. "It is my pleasure if I can help guests see such routine activities like eating as a very special experience," said the 14th generation chief monk at the temple, which was founded four centuries ago.
Although "Kurayami Gohan" looks like a fun, gourmet event, Aoe said it is actually aimed at steering people to notice "impermanence," an essential doctrine of Buddhism that says nothing stays the same, and thus, should not be taken granted.
Aoe belongs to the Jodo Shinshu sect of Pure Land Buddhism and is a member of an interdenominational group of Internet-savvy monks who organize cultural and community events at their temples to attract young people.
They have tried to reach out to a broader audience through their slickly-designed, online virtual temple site called "Higanji" since 2003 and have opened their temples for concerts, seminars, workshops, exhibitions and other cultural events.
Because of his cooking skills, Aoe, who holds an MBA from California, has hosted the monthly "Kurayami Gohan" event since 2006. Last November, Aoe released a cookbook introducing 86 recipes based on traditional Buddhist fare.
The recent session resonated with participant Shigeyo Komori.
"It turns people off when a religion preaches dogma, but this way I found myself receptive to the monk's messages," said the 44-year-old law firm secretary.
"Monks today need to have cultural tools and event-producing abilities to reach out to the masses," Aoe said. "That is because we can actually offer wisdom to help an individual live a better life, regardless of religious affiliation."
VALUE FOR COMMUNITY
Closer to the heart of Tokyo, in Kamiyacho in Minato Ward, is Komyoji temple, which serves as a hub for cultural activities organized by Higanji member monks due to its location and spacious compound.
A project that has taken root is called "Kamiyacho Open Terrace," offering an alfresco cafe experience on the balcony of the temple's main building with a view of Tokyo Tower and a graveyard almost at its foot.
The space is open to visitors between 9 a.m. and 5 p.m. daily. Visitors are allowed to bring their own lunch and drinks, but from spring to fall, monks offer to serve tea and coffee at no cost, as well as Japanese confectionery they make.
Monks also offer face-to-face counseling and spiritual advice, if visitors ask for it. The venue also hosts periodical concerts and DJ events, titled "Tasogare" (twilight hour).
Another Higanji member, Keisuke Matsumoto, a 33-year-old Jodo Shinshu monk, became a prime mover behind the projects by networking with fellow monks and friends from his alma mater, the University of Tokyo.
Like Aoe, Matsumoto is a MBA graduate, in his case the Indian School of Business.
In his view, Japanese Buddhism has lost much of its cultural appeal, mostly because the traditional "danka" system, whereby local community members and grave owners obligatorily support temple operations, holds so much sway in society.
"The system was built so well that it allowed anyone--even someone who should be least qualified as a monk--to run a temple," Matsumoto said.
"But those days are rapidly coming to a close because of diminishing family ties in local communities, which were the foundation of a temple's sustainability. We now need to create another 'en' (chain) with society," he said.
This sense of urgency prompted Matsumoto to set up a year-long special workshop, titled "school for future monks," in 2012 to teach young monks who just inherited family temples and monk-wannabes how to withstand the economic buffeting they are certain to encounter.
During a recent session at Komyoji, Matsumoto instructed a dozen students to map out a "business plan" for their temples, using advanced management models from the business school he attended.
To an outsider, it sounded odd to hear monks using terms like "stakeholder," "client satisfaction," "core values" and "intangible assets."
But Matsumoto said the goal of the seminar was to help students single out values and services that no social services other than Buddhism can offer.
"Unless it can change people's lives for the better, religion is meaningless," he said. "But we, young monks, need to find a new approach suitable for this era."
OPENING UP
A student at the seminar, Masaomi Tomomitsu, 29, became a resident monk at Jokoji temple in Tokyo's Shinagawa Ward after marrying his high school sweetheart, the daughter of the chief priest.
Life at the spacious temple has been full of surprises, said Tomomitsu, who comes from a modest background and grew up in cramped public housing.
Tomomitsu said he found the life of a monk surprisingly stress-free and economically stable.
Other than at New Year, the Bon remembrance holiday for ancestors and the spring an autumn equinox, along with days the temple hosts funeral services, Tomomitsu said he has plenty of time for himself, as daily services, for both morning and night, only take 30 minutes.
"Seeing all my college friends working hard around the clock as freshman corporate workers, I felt as if I was living in another world," he recalled.
Then, as with many of his countrymen, March 11, 2011, proved to be a wake-up call. The magnitude-9.0 earthquake that triggered devastating tsunami and a nuclear disaster gave Tomomitsu a new way to view the world and stake out a purpose in life.
His search for mission led him to start "Kogen" (toward the origin), an annual music and arts festival at the temple that targets young people in the hope a visit to the tranquil surroundings will help them find peace of mind, even just for a day. By interacting with young artists, Tomomitsu said the temple can, in turn, develop a stronger spiritual and cultural presence.
Last year's event attracted 150 visitors. This year, the program will be more varied than in the past, with Zen riddle sessions, yoga and meditation workshops and seminars on Buddhism teaching. The event is slated for April 29.
It clearly has potential, as two other local temples and a Shinto shrine will offer venues, and 30 monks will participate from various schools. The event is expect to attract 400 visitors, Tomomitsu said.
Aoe of Asakusa's Ryokusenji will provide "bento" lunch boxes of his original cuisine during the event.
"If similar initiatives are being made by young monks around Japan, then temples will be recognized again as cultural community centers," Tomomitsu said. "That, I think, is the only way that Buddhism can survive into the future."