Cafés bring Buddhism to Japan's urban dwellers
by John Hofilena, Japan Daily Press, Sep 2, 2013
Tokyo, Japan -- In its efforts to keep Buddhism relevant and to connect the ancient religion to modern city folk, the Shingon Buddhist sect – one of Japan's oldest, most prestigious Buddhist sects – has set up shop at a downtown Tokyo café, bringing a sense of tradition to the city's ultramodern residents.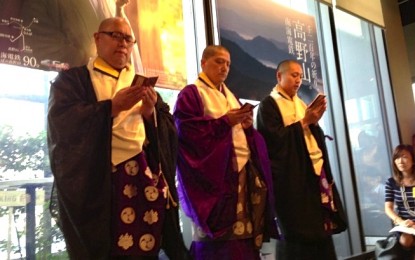 The sect has set up the Koyasan Café – named after the mountain in Wakayama prefecture where the group is based – started a 10-day stay in the city, where visitors and "seekers" can reconnect with the ancient Japanese religion.
The Koyasan Café set up shop on the seventh floor of the posh Shin-Marunouchi Building in front of Tokyo Station, but this is not the first time the sect is doing this. This current effort is actually the the café's eighth summer in Tokyo.
As an old and traditional belief system like Buddhism struggles to be relevant in a modern society, the time that visitors spend in the shop becomes a foundation for Tokyo urbanites' reconnection with the religion. At the café, visitors can eat food cooked by chefs according to Buddhist vegetarian rules. They can also listen to chanting, talk with the monks, and manually practice hand writing Buddhist scripts.
Kunihiko Yabu, a monk and the public-relations director of Koyasan says that women have been the top visitors to the café in the past few years, "mainly ladies in their 20s and 30s," Yabu added. Hironobu Watanabe, business planning director of Nankai's Tokyo branch, said the cafe has attracted between 7,000 and 8,000 people during each of the past two summers.
Trend watchers in Japan have seen a general increase in the popularity of Buddhism - particularly with young women - and attribute it to the recent trendiness of traditional, Japanese culture. But Yabu said he doesn't really care what the women's motivations are for coming to the café - what is important is that these visitors are getting exposed to Buddhism.
"In Japan, Buddhism is generally associated with funerals and memorial services," Yabu explained. "But its teachings are actually for the living, not for the dead," he reasons, saying that "it's about how we live our lives fully."
Yabu said that if this café works towards that goal, then he will be happy with it. And the Shingon sect is not alone in this strategy, as many of Japan's monks are also reaching out to urbanites in alternative ways as well. More and more Buddhist monks have opened cafés and bars in recent years, as these groups continue to look for venues to interact with potential practitioners.