Spreading Buddhism via old-style storytelling
by Takeshi Nishide, Japan Times, Feb 6, 2014
OSAKA, Japan -- In an effort to broaden the understanding of Buddhism among the lay population, some followers are using a traditional form of Japanese storytelling as a teaching tool.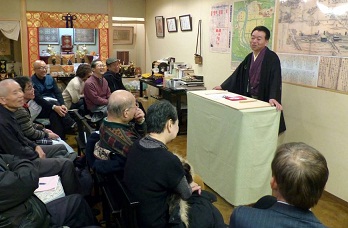 << Getting the word out: Professional storyteller Kyokudo Nankai addresses a gathering in a Buddhist temple in Chuo Ward, Osaka, on Dec. 27. | KYODO
Professional storyteller Kyokudo Nankai, 49, is one of the leaders. In late December, Nankai told the story of Kukai, who founded the Shingon school of Buddhism and is known posthumously as Kobo Daishi, to a gathering of people at a temple in the busy Minami shopping district in Osaka.
Vividly depicting Kukai's young days, Nankai stressed the great Buddhist master's resolve to "help sufferers" while occasionally arousing laughter from the audience by referring to funny episodes.
Nankai began "kodan," or traditional oral Japanese storytelling, on great Buddhist masters, who also include Shinran, Nichiren and Rennyo, over a decade ago and continues to receive invitations from temples and other places.
Nankai always keeps in mind that he should not step into the teachings of Buddhism while performing kodan, which, he says, is "not a sermon but a performing art."
"I hope listeners will feel close to (the Buddhist masters) I describe and become willing to visit temples," Nankai said.
The Jodo Shinshu school of Buddhism used to perform "fushidan sekkyo," or artistic sermons, to popularize its teachings, an example of the close relationship between storytelling and the religion.
Kyoko Okazawa, 45, is another storyteller aiming to help laypersons understand Buddhism.
The wife of Keicho Okazawa, chief priest of Hase Temple of the Shingon sect in the city of Nagano, tells stories based on a "Nehan" painting of the Buddha's deathbed and grieving followers and animals.
During her performance at a temple in Tennoji Ward, Osaka, last fall, Okazawa started with the birth of the Buddha and later explained the background of each person and animal in the drawing.
"I'm dying because I was born into this world," Okazawa said of the Buddha's deathbed.
"Life is tough and everyone dies. That's why we should live with all our strength," Okazawa said of the message she tries to bring to people with her storytelling.
Referring to Ananda, one of the Buddha's 10 principal disciples who broke down in tears at the master's death but eventually understood his message, Okazawa said, "I'm Ananda and so are many of you."
It is extremely difficult to accept the death of loved ones, she continued. "The Buddha said, 'Everyone dies,' and so we can start accepting it (death). I think I'm assisting (the Buddha's) work."
Okazawa studied the relationship between women and Buddhism during the Heian Period (794-1185) when she was a graduate student. She married Keicho and the couple began managing Hase Temple in 1996.
That year they discovered the Nehan painting, drawn during the Edo Period (1603-1863), at the temple. After the painting was repaired and displayed in 1998, Okazawa began explaining it to visitors to the temple and her storytelling about it has since gained fame.
She has been invited to perform not only by temples and other Buddhist institutions but also day care centers for children, senior citizen associations and Christian groups across Japan.