Buddhist monk Setouchi: Abe should go to war himself
By TAKUMI OKADA, ASW/Asahi, September 21, 2015
KYOTO, Japan -- Jakucho Setouchi, a Buddhist monk and novelist, denounced the Diet's passage of security legislation as "foolish" and "embarrassing," and urged voters to oust lawmakers who supported the bills in the next national election.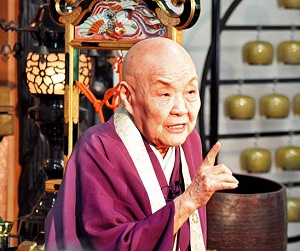 << Buddhist monk Jakucho Setouchi criticizes security legislation and Prime Minister Shinzo Abe during a sermon at her temple in Kyoto on Sept. 20. (Takumi Okada)
"Today's politics is wrong," the 93-year-old said on Sept. 20, the day after the bills were enacted. "It is foolish to allow Japan to fight (overseas) by abandoning war-renouncing Article 9 of the Constitution."
Her remarks came during her monthly lay sermon session at her temple in Kyoto's Ukyo Ward, which was attended by about 160 people.
The Diet enacted the legislation despite a wave of huge rallies staged near the Diet building in Tokyo and elsewhere and opinion polls showing a majority of the public opposed to the bills.
"Prime Minister Shinzo Abe is so preoccupied with wanting to leave his own legacy that he does not care at all what ordinary people think," Setouchi said.
"Japan may wage war now that the bills have been written into law. Abe should go to war himself."
She also said the way the ruling coalition railroaded the bills through an Upper House special committee session was "embarrassing."
The security legislation lifts Japan's self-imposed ban on exercising the right to collective self-defense for the first time since the end of World War II. Under the laws, the Self-Defense Forces can use force overseas to assist an ally under attack, even if Japan is not under a direct threat.
Setouchi lived through World War II, lost relatives in U.S. air raids on Japan, and has since been well known for her commitment to peace.
She went on a hunger strike to protest the 1991 Persian Gulf War and the war in Afghanistan following the 2001 terrorist attacks against the United States.
Despite her ill health, she traveled to Tokyo in June to speak against the security bills at a rally near the Diet building.
Setouchi said she did see a glimmer of hope when the Diet was deliberating the bills, namely the nationwide movement spearheaded by the Students Emergency Action for Liberal Democracy-s (SEALDs) consisting mainly of university students in Tokyo and elsewhere.
"They are saying 'the real test is ahead' and that 'they should settle the matter in the upcoming national election,'" said Setouchi, referring to SEALDs' pledge to unseat lawmakers who voted for the bills when the Upper House election is held next summer.
Setouchi also called on women, who made up the majority of the audience at the Sept. 20 session, to pay more attention to the legislation and other political issues.
"We should not leave the matter just to men," the monk said. "You, too, should work hard."
Setouchi said she will continue to speak out against the legislation in future sessions and write about the topic.