Japan Survey: 12,000 Buddhist temples lack resident monks
By TAKUMI OKADA, AJW/Asahi, October 11, 2015
Tokyo, Japan -- More than 12,000 temples in Japan currently have no resident monk, an absence that could lead to the further demise of these traditional centers of local communities, an Asahi Shimbun survey showed.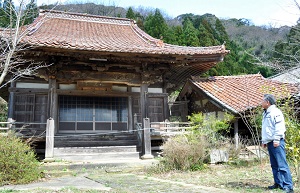 << Parishioners of Konnoji temple in Ota, Shimane Prefecture, recently decided to dissolve the Jodo School temple. (Takumi Okada)
The 12,065 temples represent 16 percent of temples affiliated with 10 leading Buddhist sects, including the Soto School, the Jodo Shinshu schools, the Jodo School, the Nichiren School, the Shingon schools, the Tendai School and the Myoshinji temple school of the Rinzai sect.
Temples affiliated with these schools cover about 80 percent of all 75,900 Buddhist temples in Japan, according to the 2014 version of the almanac on religion published by the Cultural Affairs Agency.
The Nichiren School declined to release the number of its affiliated temples that have no resident monks.
The Asahi survey also found that 434 temples of nine major denominations have closed down over the past decade, making it difficult for parishioners to maintain their family graves and perform memorial rituals.
Temples are struggling to maintain their pools of parishioners and find successor monks as populations rapidly age and shrink in many rural regions.
"Buddhist temples still remain as the centers of many local communities, and their demise would likely diminish ties among residents," said Zaitetsu Nakamura, director of the general affairs bureau of the Jodo School. "It is the most significant problem for the Buddhism schools today."
Of the 12,065 temples without resident monks, 10,496 are managed and maintained by "non-resident chief monks" who come from other temples. The remaining 1,569 temples have no non-resident chief priests.
Such unstaffed temples will likely merge with other temples or close down after going through procedures for voluntary dissolution as a religious institution.
Toshinori Kawamata, a professor of religious sociology at Suzuka Junior College in Mie Prefecture, said the Buddhism schools need to rethink the current hereditary system at temples.
He said it is imperative for the schools to come up with a system to dispatch young monks who have just completed training to vacant temples and help such facilities continue operating as community centers.
Concerned about the growing number of unstaffed temples, the Myoshinji temple school of the Rinzai sect since 2012 has recruited retirees from secular jobs to undergo training and serve as resident monks of unmanned temples.
More than 20 people in their 60s and 70s have become Buddhist preachers through the initiative.
"Temples in underpopulated areas tend to have the least revenue, and the Buddhism schools have found it increasingly difficult to financially support their operations," said Soko Kushi, an adviser to the Myoshinji school's bureau in charge of promoting revitalization efforts.
"Retired residents, who have retirement benefits, income from pensions and other financial assets, should be encouraged to lead efforts to preserve temples in their communities," Kushi said.