Buddhist statue attracts scrums of fans with its 'Goromaru-style' rugby pose
By HARUKO KOSHIBU, AJW-Asahi, Nov 13, 2015
SEKI, Gifu Prefecture (Japan) -- Rugby players and fans have been scrummaging to a temple here to pray before a 500-year-old Buddhist statue that captures the signature pose of national team hero Ayumu Goromaru.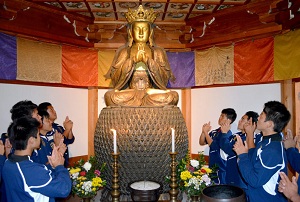 << Members of the Seki Shoko High School rugby team pay pilgrimage to the Buddhist statue said to have a hand gesture similar to Ayumu Goromaru's signature pose, at Seki Zenkoji temple in Seki, Gifu Prefecture, on Nov. 10. (Haruko Koshibu)
Located at Seki Zenkoji temple, the sitting statue of the Buddhist deity has its hands clasped together in the manner of Japan's star fullback before he takes penalty kicks.
According to 40-year-old head priest Shunkai Sato, the temple has seen a threefold increase in visitors since the 2015 Rugby World Cup.
On Nov. 10, 18 members of the Seki Shoko High School rugby team paid pilgrimage to pray for victory in this year's national tournament. The school has a long rugby tradition, participating in the tournament 35 times.
"I hope to make accurate kicks, just like Goromaru," said team member Kojiro Ogi.
The 3-meter-tall bronze statue started grabbing attention during the World Cup, where the Japan team surprised the rugby world by winning three out of four matches, including an upset of perennial rugby giant South Africa.
Although it is common for Buddhist statues to have their hands arranged in "mudras" (religious gestures), the temple's statue stands apart with its "Goromaru-style" look--palms clasped together and index fingers raised to resemble a church steeple.
The statue is believed to have been cast in China about 500 years ago and came to the temple about 100 years ago.
Goromaru became the first Japanese chosen for the World Cup's 15-player dream team. He currently plays for Yamaha Jubilo in Japan's professional Top League, but is also set to join Australia's Queensland Reds of the Super Rugby union competition in February.