In Japan there's online Buddhist priest delivery service
INQUIRER.net, September 22, 2016
Tokyo, Japan -- These days almost anything can be ordered through some website or app. From smartphones to fast food to groceries. A new kind of online service has popped up in Japan and it has ruffled more than a few feathers in Japan's Buddhist sects.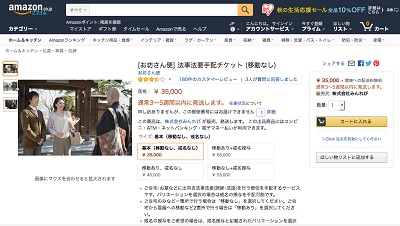 << Amazon Japan lists 4 separate services on offer with each with their respective price tags. Screengrabbed from Amazon Japan
Just as one would browse for a new electronic gadget online and place it in a virtual shopping basket to confirm the order, Buddhist priest services for funerals are also being made available with just a few clicks on Amazon Japan, reports The New York Times.
Also known as "obousan-bin" in Japanese, or "priest delivery," the seemingly innovative yet also "sacrilegious" service as viewed by many Buddhist leaders was launched last year in partnership with local start-up Minrevi. The priests who support it assert that the online service is a means of helping preserve Buddhist traditions in modern society and to make them available to the millions of Japanese who have been estranged from religion.
It is a known fact that the 21st-century lifestyle is fast-paced, hectic and leaves little room for tradition and religion. In modern Japanese society, many are being categorized as either non-religious or atheists. This is because people who reside in big cities have little or no opportunity to put down religious roots owing to the lack of access to a temple, among other reasons.
So when 68-year Yukata Kai wanted to have a priest present for the memorial ceremony of his wife's death anniversary, obousan-bin connected him to Buddhist priest Junko Soko, one of the 400 or so priests whose services can be booked through Amazon or the original obousan-bin website.
A basic memorial service will cost 35,000 yen while a package that includes a second service at a cemetery as well as the granting of a special posthumous Buddhist name costs 65,000 yen. Traditionally such religious services would be paid through donations where there is no fixed amount. Obousan-bin offers a fixed price, eliminating the guesswork on how much to give to a priest.
Junpei Masano, a spokesman for Minrevi, stated, "A lot of people don't have any connection with a temple, so they don't know where to turn to or what to do when they have to arrange a funeral. We saw there was a need."
Buddhist priest Soko stressed that innovations like obousan-bin are vital for the survival of Buddhism. "We have to try new things," he said, pertaining to the difficulties of managing a temple and how such practical knowledge was not taught to them when they became priests.
As it stands, temple income is steadily declining as more and more people distance themselves from religion. Perhaps there is indeed wisdom in Soko's words and that Buddhism needs to adapt to the times if it is to find a place in modern Japanese society.