'Shukubo' inn to provide tourists with Buddhist buzz in Osaka
By SHIKI IWASAWA, Asahi Shimbun, November 7, 2016
OSAKA, Japan -- A new "shukubo" style inn to provide tourists with a Buddhist vibe usually available only in temple compounds will open here in March 2017.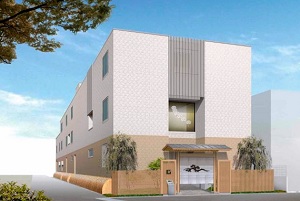 << An artist's rendition of a "shukubo" inn that is scheduled to open in Osaka's Tennoji Ward in March 2017. (Provided by Waqoo Project)
At the inn, visitors can indulge in "shakyo," which is copying Buddhist texts, and "zazen" relaxation, which is practiced in a cross-legged sitting position at Zen monasteries and is said to clear the mind and spirit to attain a kind of enlightened emptiness.
Sekisui House Ltd., one of Japan's major house builders, announced that it will construct the inn in Osaka's Tennoji Ward, where many temples and shrines, including the famed Shitennoji temple, are located.
The prefabricated three-story inn will have 26 rooms with a total capacity of about 60 people. Room rates are likely to start at about 20,000 yen ($192) per night and "shojin-ryori" (Buddhist vegetarian cuisine) is on the menu.
Monks from temples in the area will be sent to the inn to oversee traditional cultural activities and events.
Waqoo Project, an Osaka-based company that develops and operates accommodation facilities, will be in charge of the management and operation of the shukubo inn.
By teaming with Waqoo Project, Sekisui House aims to open 10 such inns in major cities across the nation by the end of 2017 in the hopes of tapping into the burgeoning number of foreign tourists wishing to enjoy more cultural and traditional events.
The Temple and Shrine Tourism Association is overseeing the operations.
Shukubo inns are accommodation facilities that are built near Japanese temples or shrines for accommodations for worshippers, pilgrims and followers.
But nowadays, many of the facilities also take in tourists and allow them to participate in religious activities such as morning services and shakyo.
Shukubo inns in Koyasan, Wakayama Prefecture, have gained in popularity among tourists especially from the United States and other Western countries.