Illuminating Buddhism in a high-tech light
by Tomoyuki Hamahata, The Japan News/Asia News Network, April 17, 2017
Fukui, Japan -- Faced with declining attendees among the young, one temple priest in Fukui has found a unique way to help them see the light. His "techno hoyo" fuses traditional religious images projected in brilliant lights with Buddhist sutras set to a techno beat.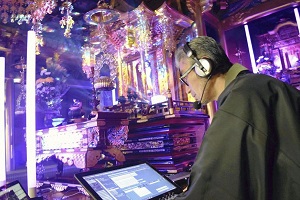 << Gyosen Asakura performs a "techno hoyo" ritual in Fukui. He said he hopes that the ritual will invoke the Buddhist version of paradise in each attendee. (The Japan News/File)
Gyosen Asakura, 49, the master of Shoonji temple in the city, has experience as a DJ. Using his high-tech equipment, his ritual expresses images of life after death in the paradise that Buddhism says awaits us.
With many young Japanese shunning religion these days, Asakura hopes this creative take will stoke interest in Buddhism.
"Priests are publicity agents for Buddha," he said. "I want to reach out to people in my own way."
Asakura became interested in music around the time he was a first-year student in junior high school. His father, who also loves music, gave him a stereo system.
At that time, "Rydeen," a piece by the techno music group Yellow Magic Orchestra, was all the rage. The priest was fascinated by it.
After graduating from high school, Asakura got a job in a club in Kyoto, working on the lighting staff on weekdays and as a DJ on weekends. He immersed himself in music.
At 24, he returned to Fukui and began working as a Buddhist priest. Since then, he has noticed a decline in families supporting the temple and worshipers. Most worrying to him was the lack of young temple supporters.
With encouragement from his family, Asakura decided to use his skills to promote Buddhism after he succeeded his father as the 17th temple master in 2015.
In Buddhism rituals, candles are used for lighting altars.
"After someone saw how the gold leaf on altars can shine so beautifully when bathed in light, people started to illuminate it with candle flames," Asakura said.
If the olden days found their lighting through candles, Asakura thought modern times could find its lighting through colorful illuminations.
The priest thought of Perfume, a popular female trio known for its fantastical stage performances using lighting effects. Asakura employed similar techniques in many parts of his techno hoyo rituals.
As he reads the sutras, a projector displays geometric light patterns of various colors, such as white, blue, red and purple, inside the temple rooms or over Buddhism statues.
"I have long thought the rhythm of reading the sutras can be matched with techno music," Asakura said.
The priest performed the first techno hoyo ritual in May last year with about 60 people attending. Asakura said the event was well received. One of the attendees told him, "The paradise of Buddhism looks beautiful."
He posted a clip of the ritual on YouTube, which gained traction among the site's users.
However, Asakura's equipment at that time limited the variations of the light performances. He recently finished a crowdfunding drive for donations to purchase new lighting equipment.
Asakura's temple belongs to the Jodo Shinshu Hongwanji-ha sect. It was established in 1475 in the Ichijodani district in today's city of Fukui, and later relocated to its current location.
Techno hoyo rituals will be held on May 3 and Oct. 25, when the temple will hold a "Hoonko" ceremony to commemorate Shinran, who founded the Jodo Shinshu Buddhism.
Admission to the techno hoyo ritual is free, and up to 100 visitors can be admitted.