UNESCO Recognizes Ancient Buddhist Documents for Memory of the World Register
The Buddhist Channel, 25 May 2023
Otsu, Japan -- UNESCO's Memory of the World register will now feature a remarkable collection of documents dating back over a thousand years, shedding light on the historical and cultural exchanges between Japan and China.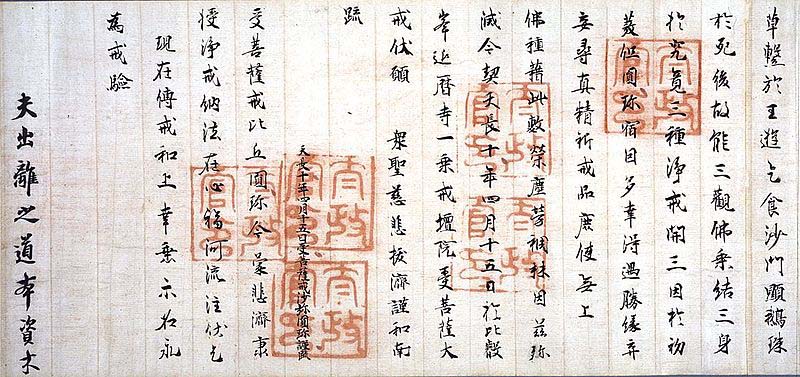 This document is part of an official certificate issued for Enchin when he received the bodhisattva precepts from Abbot Gishin at the Enryaku-ji Temple ordination
The archives of Enchin, a revered Buddhist monk from the 9th century, have been approved for inclusion by UNESCO's executive board on May 24.
Enchin, renowned for establishing the Tendai Jimon sect after introducing Chinese Esoteric Buddhism teachings from the Tang Dynasty, played a pivotal role in promoting cultural connections between Japan and China.
The national treasure designation has been bestowed upon these significant documents, which even include the actual travel pass used by Enchin during his journeys across China.
Currently held at the Onjoji temple, also known as Miidera, in Otsu, these documents provide invaluable insights into the historical backdrop of cultural exchanges, legal matters in the Tang Dynasty, and the transportation system of that era.
The inclusion of these documents in UNESCO's Memory of the World register holds great importance, not only for Japan but also for enhancing our understanding of the profound cultural ties between the two nations. Furthermore, these records contribute to our knowledge of the legal framework and transportation systems prevalent during the Tang Dynasty.
In 2017, recommendations to UNESCO were temporarily suspended due to Japan's objections concerning the registration of the Nanking Massacre records in 2015. Japan requested a revision of the evaluation procedure at that time. Subsequently, in April 2021, UNESCO approved revisions to the program, stating that if any member nation objects, the recommendation will not be registered. Moreover, under the new system, only national governments are eligible to submit recommendations. Previously, individuals and citizen groups were permitted to directly propose recommendations.
This recent approval marks the first successful inclusion under the revised system. With the addition of Enchin's documents, Japan now boasts a total of eight collections registered in UNESCO's esteemed Memory of the World.
Unfortunately, the nomination of another Japanese candidate this year did not receive approval. The submission consisted of documents collected at the behest of Tokugawa Ieyasu, the first shogun of the Tokugawa Shogunate, and subsequently donated to Tokyo's Zojoji temple.
Read more:
Enchin (円珍) (814–891)
https://www.encyclopedia.com/environment/encyclopedias-almanacs-transcripts-and-maps/enchin