Blisters for Buddha: Japanese pilgrims keep up 1,000-year tradition
Mainichi Daily News, May 12, 2006
NARUTO, Japan -- Pilgrims in straw hats and white smocks amble past cherry trees flush with blossoms. They mount the stone steps into the cool, incense-laced air of a Buddhist temple, and bow their heads in prayer.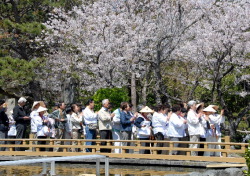 << Pilgrims in white smocks and straw hats offer prayer before cherry trees in full bloom at Gokurakuji Temple in Naruto, western Japan, April 5, 2006. The temple is the second of 88 stops on one of Japan's premier religious pilgrimages. (AP Photo)
Ryozenji, or the Temple of the Vulture's Peak, is the first of 88 stops on one of Japan's premier religious pilgrimages, a 1,440-kilometer trek through the mountains, craggy coastlines and verdant countryside of the island of Shikoku.
Many of the pilgrims, nearly all of them gray-haired retirees, travel in comfort in tour buses, taxis or their own cars. For them, the millennium-old journey will take two weeks at the most.
But not for Hisao Kitawaki. He's making the arduous pilgrimage the old-fashioned way -- on foot.
"I want to take the route through the mountains like the pilgrims of 1,000 years ago," declared Kitawaki, 66, who was making his fifth annual pilgrimage since retiring. He expects the hike to take him about 45 days.
Tramping for nearly two months in the countryside on a religious mission seems like an anachronism in modern Japan, the fast-paced home of high-speed bullet trains and 12-hour workdays. But the number of walking pilgrims appears on the rise. Shuzen Yoshimura, a priest at Ryozenji, said such travelers have increased from a couple hundred a decade ago to about 4,500 a year today. Many like to make the journey in the spring, when the weather is good.
While the tour has long been a staple for retirees with time on their hands, it is also becoming more popular among younger pilgrims, Ryozenji said.
Some are middle-aged and may have been restructured out of their white-collar jobs during the decade-long economic malaise that seems to have finally ended. Others are 20-somethings seeking answers about life in a changing society.
"Maybe they have given up work," mused Yoshimura, who first did the pilgrimage when he was 14, by bicycle. "They find that if they walk for two months, it's really tough, but through that hardship they can attain self-confidence."
There's no question the hike is demanding.
Starting in Naruto, on the northeastern edge of Shikoku, about 500 kilometers (300 miles) southwest of Tokyo, the route runs clockwise around the rugged island, running south to the Pacific coast, west and then back to Shikoku's northern coast, across the Inland Sea from the cities of Hiroshima and Okayama.
The road has its own etiquette. Pilgrims are called "henro," and residents who follow the old traditions will offer walkers fruit or tea along the route. The henro typically stay at temple lodging and motels, or camp under the stars.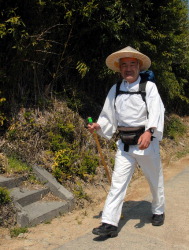 Wearing a plastic-covered straw hat and white >>
smocks, Hisao Kitawaki ambles down a road in Naruto, western Japan, April 5, 2006. (AP Photo)
The test of endurance is matched with a history that stretches back a millennium.
The circuit links temples associated with the monk Kukai, also known as Kobo Daishi, who founded the Shingon sect of Buddhism in the early ninth century after tradition says he attained enlightenment on the southern coast of Shikoku.
Kukai's main message was that enlightenment is possible on earth through meditation and ritual -- and legend says he illustrated this by not really dying at the end of his life in A.D. 835, but by going into a deep, meditative sleep. His followers later began making the rounds of the temples in Shikoku, laying the foundations for a pilgrimage that would rise to great popularity starting in the 14th century.
Nowadays, the pilgrimage's meditative role is somewhere between religious observance and a soothing respite from the rigors of modern life. The tour is designed to be divided in four phases: Awakening faith, religious discipline, enlightenment, and finally nirvana.
"You get to the point where you can't express your feelings in words," Yoshimura said. "The same as if your daughter is getting married -- you can't express how beautiful she is in words."
This being the 21st century, hikers also have some secular expectations on their minds -- such as a pleasant trip amid stunning scenery, or a great workout.
Kitawaki, who comes from the mainland port city of Kobe, said he was making his fifth circuit mainly for the physical challenge. He laughed when asked about attaining a higher consciousness.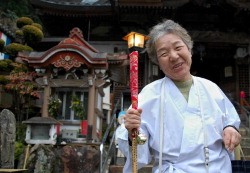 << Setsuko Tomida, 69, smiles outside Okuboji Temple in Kagawa, western Japan, April 5, 2006. Tomida made the pilgrimage by car with her brother and sister. "I feel like my soul is purified," she said as she walked away from the final stop. (AP Photo)
"Enlightenment? I've never experienced it. I think in my case, it's impossible," he said outside a shop selling prayerbooks and other paraphernalia near Gokurakuji, or the Temple of Pureland, the second one on the tour. "It has nothing to do with religion."
In many ways, the pilgrimage stops are similar to any other tourist trap in Japan.
Tour buses groan in and out of ample temple parking spaces. Large clusters of seniors dutifully trudge behind animated guides onto the temple grounds. Trinket shops and vending machines are always close at hand.
But amid the raw commercialism, the pilgrimage -- with its jaw-dropping scenery, curls of incense smoke and the constant drone of chanting monks -- is soothing and inspiring even for those making the circuit by car.
Setsuko Tomida, 69, drove the route with her brother and sister from Gifu, in central Japan.
"I feel like my soul is purified," Tomida said at the final stop on the pilgrimage, Okuboji, or Temple of a Large Hollow. "I'd like to walk it -- then I'd really have the true feeling. But it's impossible at my age." (AP)